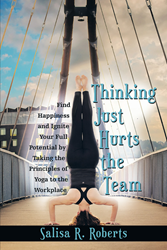 BELLEVUE, Wash. (PRWEB) January 29, 2018
An experienced financial planner and long-time yogi has released her practical guide to growing and thriving in and out of the workplace through the application of the principles of yoga.
In "Thinking Just Hurts the Team," author Salisa R. Roberts uses her extensive background in banking and financial services and her 16-plus years of yoga practice to help readers navigate the challenging terrain of modern offices and boardrooms by fortifying their leadership skills, sense of self and personal presence and presentation.
"After years of working my way up the ladder in the financial world, I found my way to yoga after deciding I needed to learn how to relax," Roberts said. "I was surprised how often I ended up applying the principles of yoga in the business world. Leadership and yoga are both about doing what needs to be done, not just what feels good in the moment."
"Excellent book about leadership whether one practices yoga or not," an Amazon customer wrote in a five-star review of the book. "This book also explains how a person's leadership is helped by a strong yoga practice and how a person's life can be transformed by yoga."
With short, easy-to-read chapters and bite-size bits of inspiration, "Thinking Just Hurts the Team" equips readers with the necessary tools to help them flourish personally and professionally and offers a flexible and relatable method through which they can build a career, bolster their confidence and, ultimately, cultivate a fulfilling life.
"Thinking Just Hurts the Team: Find Happiness and Ignite Your Full Potential by Taking Principles of Yoga to the Workplace"
By Salisa R. Roberts
ISBN: 978-1-4808-5026-2 (hardback); 978-1-4808-5027-9 (paperback); 978-1-4808-5028-6 (electronic)
Available at the Archway Publishing Online Bookstore, Barnes & Noble and Amazon
About the author
Salisa R. Roberts is a Certified Financial Planner™ and senior leader at a regional bank with more than 28 years of experience in banking and financial services. In her spare time, Roberts enjoys yoga, cycling, cooking, reading and writing. She currently resides in Bellevue, Wash., with her husband. To learn more, please visit http://www.salisaroberts.com.
Review Copies & Interview Requests:
LAVIDGE – Phoenix
480-648-7557
dgrobmeier(at)lavidge(dot)com
General Inquiries:
LAVIDGE – Phoenix
480-998-2600 x 584
mdriver(at)lavidge(dot)com