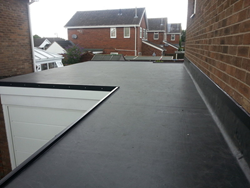 Strive for the top and you will reach it.
Vancouver, BC (PRWEB) January 25, 2018
Roofing Vancouver, a roofing company servicing the Greater Vancouver area, is embracing the future of roofing with two new types of roofing materials.
The company is one of the top rated roofing companies in Canada and has many successful roofing projects under their tool belts.
As well as residential roofs, the company also specializes in roofs for commercial buildings including stadium domes and cathedral steeples. The experienced team has extensive knowledge of the latest roofing materials and techniques as outlined below.
EPDM Roofing
Many people are discovering EPDM or Ethylene Propylene Diene Terpolymer as an alternative to traditional roofing materials. When installed this black synthetic rubber roof looks smart like slate and has superior insulating properties cutting energy and air-conditioning costs. It works superbly in cold temperatures and is hail resistant.
EPDM is extremely durable and will last around 20 years. It is also one of the cheapest roofing types on the market today at just .80 for a square foot.
For more information read the full article on Roofing Vancouver's blog site.
TPO Roofing
Thermoplastic polyolefin or TPO roofing is gaining popularity because it's made of strong durable rubber, easy to install and energy efficient. Its seamless construction offers greater protection against leaks, and it is extremely resistant to mold, dirt, tears and punctures.
Best of all it's economical with a square foot costing around $1,0000 less than a PVC roof. It comes in colors of white, black and grey.
For more information read the full article on Roofing Vancouver's blog site.
About Roofing Vancouver
Roofing Vancouver provides a full range of roofing services for residential and commercial properties in the Greater Vancouver area. Services include: preventative maintenance, leak repair, full roof replacement and new roof construction. Vancouver Roofing is a member of the Better Business Bureau with an A+ rating. Visit the website to learn more about Roofing Vancouver's roofing solutions: http://roofingvancouverbc.com/
For more information contact:
Roofing Vancouver
Unit 231
4501 Kingsway #201
Burnaby V5H 0E5
Vancouver, BC
+1 (778) 200-3114