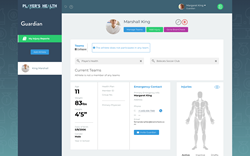 HOUSTON (PRWEB) January 25, 2018
A partnership between BrainCheck, a rapid, mobile technology to measure brain performance, and Player's Health, a mobile real-time injury management platform, will help protect young athletes' health while making injury management protocols easier for athletic trainers, coaches and parents.
BrainCheck's application uses interactive neurocognitive tests to measure athletes' brain performance, allowing them to track changes over time. By integrating with the Player's Health platform, organizations and families will have one-stop shopping for injury and brain-performance tracking.
"Through a partnership with BrainCheck, Player's Health is able to upgrade its interactive, mobile injury management and tracking system by providing baseline tests to customers," said Tyrre Burks, CEO of Player's Health. "BrainCheck is a reliable tool for testing protocols and will create a better process for athletic trainers," he added.
The partnership between BrainCheck and Player's Health will allow both companies to share its resources and offer a simpler, more effective solution to sharing an athlete's wellness information between athletic trainers, parents and healthcare providers.
"BrainCheck's goal is to take care of athletes by democratizing cognitive health. Our partnership with Player's Health allows parents, athletic trainers, coaches and physicians to collaborate on care for the whole athlete — body and brain," said Yael Katz, MD, co-founder and CEO of BrainCheck. "We're excited to partner with such an innovative, caring company to achieve this goal."
BrainCheck is available through the Player's Health platform, or it can be purchased through https://braincheck.com.
About BrainCheck:
BrainCheck's goal is to democratize cognitive health by bringing its interactive testing platform to people everywhere. Available on iPhone, iPad and desktop, in English and Spanish, BrainCheck assesses multiple cognitive domains in minutes and delivers results that can be shared with family members, caregivers, and clinicians. BrainCheck is used by individuals, athletic teams, senior organizations, and doctors around the world, and is spreading rapidly. The platform also includes special content by renowned neuroscientist, author and speaker Dr. David Eagleman to give people insights into the inner workings of the brain and a better understanding of their brain health. To learn more, please visit https://braincheck.com.
About Player's Health:
Player's Health is an interactive mobile platform to simplify the flow of youth athlete health information between coach, parent, and healthcare provider. The platform reduces injury risk for its users, boosts policy compliance, and revolutionizes data-driven safety. With Player's Health, amateur sports organizations put their best foot forward on the issue of player safety and promote more effective injury management from top to bottom. To learn how the Player's Health HIPAA-compliant platform streamlines injury and concussion management, visit https://playershealth.com/.