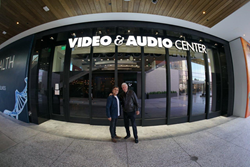 LOS ANGELES (PRWEB) January 25, 2018
Experience future of technology today at Video & Audio Center Technology Showcase
First of its kind retail space allows consumers to see, feel, touch & experience advanced visionary products of 2018 for home, mobile and portable devices in dynamic, tactile setting.
What: Video and Audio Center boldly takes consumers into the future via a technology showcase that fully immerses them into the latest, visionary products of 2018. This "Mini CES for Consumers" will allow the general public to see, feel, touch and experience for the first time super-smart appliances with total home and anywhere-you-go connectivity, a host of brand-new artificial intelligence, virtual reality and home security products and a new generation of video/4K smart TVs. These will all be featured in a retail environment that not only sets apart the traditional lateral displays in a novel way but also takes advantage of vertical space like never before. In fact, these advanced displays and store layout are so unique that Video and Audio Center has applied for a federal copyright on its design.
Who: Top technology, consumer electronics and entertainment industry executives, engineers and experts from companies such as 20th Century Fox, LG Electronics, Samsung North America and Sony Electronics of America, Video & Audio Center staff and consumers including:

Mike Dunn, 20th Century Fox Home Entertainment, President
John Taylor, LG Electronics, Senior Vice President, Communications
Rick Calacci, LG Electronics, Senior Vice President, Sales
Jorge Madrigal, Samsung North America, Senior Director
Mike Fasulo, Sony Electronics Inc., President & COO
Robert Duncan, Sony Electronics of America, Vice President
Joseph Akhtarzad and Mayer Akhtarzad, Video & Audio Center, Co-Owners
Tom Campbell, Video & Audio Center Corporate Director & Chief Technologist
Where:
Video & Audio Center at Westfield Century City Open Mall
10250 Santa Monica Blvd. (near Apple Store and across from Nordstrom)
Los Angeles, CA 90067
Phone: 310-277-5252
Time:
Thursday, January 25th, 5:00 p.m. to 8:30 p.m.
Press Conference will begin at 6:00 p.m.
Contact:
Chris Olmstead
Olmstead Marketing
310-625-6546
chris(at)olmsteadmarketing(dot)net
Tom Campbell
213-400-0000
tc(at)tomc.org
Background:
The future of consumer technology will be featured at Video and Audio Center's new flagship showcase in the $1.4 Billion Westfield Century Open Mall.
The award-winning Video & Audio Center has been introducing new technologies for more than 34 years. "This new technology showcase is the most advanced yet consumer friendly store we have introduced. The design of our innovative interactive space allows people to reach out and touch, feel and experience all the latest advancements in consumer technology. Our team has created our finest entertainment experience to date and looks forward to expanding it as technology advances in the years ahead," remarked Joseph Akhtarzad, co-owner Video & Audio Center Inc .
Video and Audio Center has hired more than 200 people to staff this ground-breaking retail space and to support its warehouse and operations. Executives will discuss what this advanced technology showcase will mean for the consumer and local job market as well as the Southern California economy. These advanced technologies are an excellent example of innovation from the consumer electronics industry that continues to drive increased economic activity.