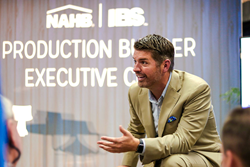 CHICAGO (PRWEB) January 23, 2018
One of today's greatest opportunities in business is the attraction and management of millennials within the workplace. The understanding of what they want, how they find it, and why they stay is critical for almost every business owner. David Rice, founder of New Home Star, the largest private seller of new homes in America, whose company was honored with a Glassdoor Employees' Choice Award, recognizing the Best Places to Work in 2018, was tapped to explain the five secrets of retaining millennials and building a winning team to executives of the top 100 homebuilders at the International Builders' Show (IBS) in Orlando, Fla.
While Rice's presentation was targeted toward homebuilders, his insights can be applied by any company that needs to include millennials in their hiring plan. Hint - that's every growing company. According to Rice, there are five main "things" to keep in mind when building a winning team:
1) Recruit and Hire In Advance of Need
"Know what your staffing needs are in advance and hire accordingly," said Rice, whose firm receives approximately 3,000 job applications each month. Hiring in advance ensures that prospective employees, especially millennials, have time to get a feel for the fit. They feel like their time is being valued and respected, as they won't be asked to take on too much extra work to accommodate for staffing shortages and a lack of planning.
To successfully implement this process, Rice recommends instituting a monthly personnel assessment in which managers anticipate staffing needs for the following 90 days. Based on the performance of each team member and the growth plans of the organization, managers can clearly identify how many people they will need to hire and when, approximately, they will need to be on-board. As an additional use of the assessment, managers can identify the employees who need more development and guidance in their respective careers. This part is attractive to millennials too.
2) Five Touch Rule
As a recruitment best practice, do not hire anyone onto the team without first having five interactions with them. Start with a phone screening. If this goes well, move to other 'touches' with the applicant such as phone interviewing, in-person interviewing or job shadowing. "Unless there are five documented interactions, our corporate office won't issue an offer letter," explained Rice. "This not only is a great opportunity to get to know a candidate, but it also lets them get to know your company and, therefore, make a more educated decision based on fit."
The Five Touch Rule not only gives more than one employee the opportunity to get to know a potential team member, it also provides an opportunity for team members to grow in their careers by having potential hires shadow those looking to advance – a win-win for everyone and especially attractive to millennials.
3) Game On – Establish, Measure and Celebrate Quarterly Goals
"Millennials want to know what they need to do in the next 90 days, not in the next year – that's how their parents think," said Rice. "They want to know how they will be rewarded if they accomplish the goals, and how soon they'll celebrate."
"We have a technology platform where people 'hang out', share ideas, congratulate each other and compete to earn points and badges," explained Rice. "The gamification component awards points to people for doing things inside the company and on the platform. They earn prizes - T-shirts and gifts - that keep them coming back to do more, which ultimately helps them advance in their career." The platform allows everyone to see where they rank within the company from a point and badge perspective. It feeds into the competitive nature of not just millennials, but sales people in general.
Rice is confident that millennials will get the job done if employers set clear goals and expectations, deliver on timely rewards and publicly celebrate both team and individual successes. He is skeptical that an annual plan with a single bonus at the end of the year will do the trick.
4) Encourage Dreaming
On an annual basis, sit down with each employee and ask, "What does your dream career look like?" Help them to develop a plan that makes their dreams a reality, and assure them that it is okay if this career does not include your firm. "It's important for people to openly dream and not fear the consequences," explained Rice. "Helping them work toward their goals builds loyalty and commitment to the current job, too. Let them know you care about their dreams and goals beyond the work they do for your company."
In an example, Rice explained that a team member in charge of a company support function possesses a law degree. Rice recommended the employee pass the bar, become corporate counsel and adjust his hours so that he would have time to develop and execute his plan of delivering shin guards to all kids through youth leagues to reduce the likelihood of permanent injury. The open discussion of dreams and aspirations can go a long way in building trust and loyalty among team members; this is extremely important to the millennial workforce.
5) No HR Surprises
While millennials may enjoy a good surprise party, nobody likes to be surprised when it comes to their career. In regards to HR decisions and announcements, building a winning culture and retaining employee satisfaction, it is crucial to adopt human resource (HR) policies that are transparent and inclusive. "If someone is surprised by anything related to HR, it's a big problem," said Rice. "If there's a promotion, it should be obvious because the person's been working towards it and meeting deliverables that are transparent and known to everyone."
To support all decisions – whether hiring or firing – employees should be made aware through the use of coaching documents, promotion plans and other processes that have been set in place.
"We have a rule that no one is allowed to be surprised by any manager EVER," said Rice. "Think about how you want to be treated and how seriously you take your career. Use that to guide your decisions."
By 2020, more than one-third of the workforce will be comprised of millennials, and companies will eventually need to learn how to embrace this generation. These tactics will guide employers to be proactive in doing so, eliminating the hardships of handling these issues in the future. As a final nugget of truth, Rice reminds us, "Millennials are real and are not going away – but the generations before them are. We have to get this right."
To watch a video of Rice's presentation from IBS, click here.
About New Home Star
Founded in 2008, New Home Star is the largest private seller of new homes in the U.S. Leveraging state-of-the-art technology to channel decades of experience into engaging sales training and operational tools, New Home Star rapidly transforms newly hired sales professionals into competitive advantages for builder partners. Working with a builder base that includes some of the largest homebuilders in the U.S. and Canada, New Home Star recruits, selects and develops sales teams with a full-time focus on new home sales delivering new home sales strategies with a national perspective and a local presence. The business goal is simple: To Sell More Homes, More Profitably™. For more information visit: http://www.newhomestar.com.
Editors: For more information or to schedule an interview, contact Robin Plous at rplous(at)taylorjohnson(dot)com or (312) 267-4512.