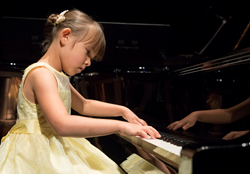 ANAHEIM (PRWEB) January 25, 2018
The Yamaha Music Education System will present inspiring performances by three exceptional young composers during this year's annual Junior Original Concert at the 2018 NAMM Show, the largest musical instrument convention in North America. Junior Original Concerts showcase the work of students at Yamaha Music Schools from across the country who perform their original compositions.
The free concert will be held at 1pm on Thursday January 25, 2018 in the Keyboard area of the Yamaha booth, located in the Anaheim Marriott Hotel, Marquis Ballroom. All NAMM badge-holders are invited to attend.
Kaya Baird, age 8, a student at Irvine Yamaha Music Center, Irvine, California, will perform her piano solo composition Happy Campers. Her composition was inspired by the joy she experiences while spending time outdoors with her family and friends. Kaya performed at the 2017 U.S. National Junior Original Concert, and soon after, participated in the Music Teachers' Association of California (MTAC) Irvine Branch Contemporary Festivals where she placed first and the MTAC Composers Today State Contest where she placed second.
Jonathan Hartanto, age 12, a student at Bergen Yamaha Music School, Fair Lawn, New Jersey, will perform his composition In the Shadows with co-performers Aaron Smith on trumpet, Eric Sittner on bass and M.B. Gordy on drums. Jonathan was inspired by jazz greats including Miles Davis and David Brubeck in the development of his composition. Jonathan performed at the 2014 and 2017 U.S. National Junior Original Concerts and the 2013 Eastern Regional Junior Original Concert.
Ty Promreuk, age 15, a student at East Valley Yamaha Music School, Chandler, Arizona, will perform her composition La Habana with co-performer Anna Gong on violin. Ty was inspired by Cuban music in the development of her original composition. Ty performed at the 2015, 2016 and 2017 U.S. National Junior Original Concerts and the 2013 Western Regional Junior Original Concert. Ty began taking lessons at East Valley Yamaha Music School at age 4 and, 11 years later, is currently a student teacher.
Established in 1954, the proven Yamaha Music Education System helps enhance the offerings of music schools and musical instrument dealers in 40 countries worldwide. In the United States, more than 60 locations nationwide are authorized to teach the Yamaha method. To date, more than six million students from around the world have graduated from the program and many of them have become professional musicians. The goal of the Yamaha Music Education System is to nurture an overall sense, appreciation and love for making and sharing music.
Yamaha Junior Original Concerts showcase the talents of top-achieving students at Yamaha Music Schools and take place annually around the world. They have been held at such prestigious venues as The Kennedy Center, Wiener Konzerthaus, Salle Gaveau and Carnegie Hall.
For more information, please visit the Yamaha Booth at the 2018 NAMM Show in the Anaheim Marriott Hotel, Marquis Ballroom, January 25-28, 2018, or http://4wrd.it/YamahaMusicEducation
About Yamaha
Yamaha Corporation of America (YCA) is one of the largest subsidiaries of Yamaha Corporation, Japan and offers a full line of award-winning musical instruments, sound reinforcement, commercial installation and home entertainment products to the U.S. market. Products include: Yamaha acoustic, digital and hybrid pianos, portable keyboards, guitars, acoustic and electronic drums, band and orchestral instruments, marching percussion products, synthesizers, professional digital and analog audio equipment, Steinberg recording products and NEXO commercial audio products, as well as AV receivers, amplifiers, MusicCast wireless multiroom audio systems, Blu-ray/CD players, earphones, headphones, home-theater-in-a-box systems, sound bars and its exclusive line of Digital Sound Projectors. YCA markets innovative, finely crafted technology and entertainment products and musical instruments targeted to the hobbyist, education, worship, music, professional audio installation and consumer markets.