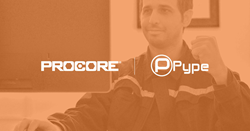 "We are thrilled to be working with Procore and to give project teams the ability to save valuable time." - Karuna Ammireddy, CTO and Co-Founder, Pype
WASHINGTON (PRWEB) January 25, 2018
Pype, an innovative software solutions company, today announced a new integration with Procore, a leading provider of cloud-based applications for Construction, that removes the manual steps associated with creating submittal logs.
By using the the Pype AutoSpecs product, users are able to generate submittal logs in a matter of minutes and transfer them directly into Procore. This innovative solution takes the tedious manual entry process out of equation, saving users time and allowing construction projects to begin more quickly and efficiently. With just a few clicks, project teams are able to focus on understanding each submittal requirement.
"AutoSpecs has allowed us to save time processing specifications, and to build a manageable submittal register that we can then process in Procore," said Kris Lengieza, VP of Operational Excellence at Stiles Construction. "This allows our project teams to spend more time managing the project and less time on data entry."
"This new integration aligns with our founding vision of using technology to build a stronger, faster and more productive workforce for the construction industry," said Karuna Ammireddy, CTO and Co-Founder, Pype. "We are thrilled to be working with Procore and to give project teams the ability to save valuable time."
To learn more about Pype and it's AutoSpecs product, visit pype.io.
About Pype
Pype is an innovative software company that is changing the face of the construction industry. The company's patented software saves time and money by automating construction business processes that are manual and labor intensive. Pype helps leading construction companies start their projects faster and finish stronger.
About Procore Technologies, Inc.
Procore Technologies, Inc., is a leading provider of cloud-based applications for Construction. Through Procore Construction OS, the company connects people, applications, and devices through a unified platform to help construction firms manage risk and build quality projects, safely, on time, and within budget. The company has a diversified business model with products for Construction Project Management, Construction Financials, and Quality & Safety. Headquartered in Carpinteria, California, with offices around the globe, Procore has more than 2 million users managing billions of dollars in annual construction volume. For more information about Procore, visit procore.com.