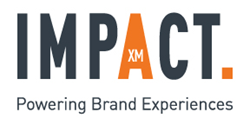 We are ecstatic to announce this expansion that will help us meet the growing needs of our global client base
DAYTON, N.J. (PRWEB) January 24, 2018
Impact XM, a global experiential marketing agency with a forty-five-year heritage of crafting strategic audience engagements that power brand experiences, today announced expansion of its Toronto location via relocation to a larger, more expansive and tech-forward space. This pivotal expansion allows Impact XM | Toronto to support all of Canada from this location as well as to effectively support global client programs.
The move means Impact XM | Toronto benefits from a variety of improvements, including:

85,000 additional square feet
Expanded office space
Updated production capabilities
Higher profile building exposure
More contemporary offices
Technologically advanced space with expansive tech potential
"We are ecstatic to announce this expansion that will help us meet the growing needs of our global client base," said Jared Pollacco, President of Impact XM. "The increase in space and capabilities of both our office and production spaces mean greater efficiencies for our valued clients."
Impact XM | Toronto completed the move in early 2018 and remained fully functional throughout the process.
About Impact XM (http://www.impact-xm.com)
Impact XM crafts strategically driven, creatively focused brand stories through live and digital experiential marketing that delivers measurable results for its clients.
Trusted by some of the world's most respected organizations, the agency has a forty-four-year heritage of insightful strategy, brilliant creative, smart fulfillment and purposeful metrics across business and consumer trade shows, user conferences, event activations and digital engagements. Impact XM clients operate across a variety of industries, including the Aviation, Healthcare, Technology and Industrial sectors.
Headquartered in New Jersey, Impact XM maintains locations in Toronto, New Jersey, Los Angeles, Las Vegas, Washington D.C. and Zurich. More information can be found at: http://www.impact-xm.com.