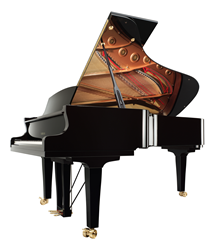 "With the two together, discerning piano owners can now truly have the best of both worlds—our finest acoustic pianos integrated with the best reproducing system made," said Gary Klugman, director of marketing, Pianos, Yamaha Corporation of America.
ANAHEIM (PRWEB) January 25, 2018
Yamaha SX Series grand pianos will now be available with the Disklavier ENSPIRE PRO system, integrating the company's premium family of handcrafted grand pianos with the most advanced and highest-resolution reproducing piano technology in the world. The pianos will be available in three sizes: S3X ENSPIRE PRO (6'1"), S5X ENSPIRE PRO (6'7"), and S7X ENSPIRE PRO (7'6").
Introduced at last year's NAMM Show, the SX Series is the successor to the universally acclaimed S Series, and is the result of years of collaboration between Yamaha engineers, leading artists, and professional educators. SX pianos are crafted from the finest materials to the highest standards of perfection, resulting in a tone that is warm, expressive, and inspiring to even the most demanding pianists across all styles of music. They are the first acoustic pianos to incorporate the Yamaha Acoustic Resonance Enhancement (A.R.E.) process in the rims, which reforms the wood to achieve tone previously thought only possible with aged wood or a vintage instrument.
Until now, conventional wisdom held that wood had to age for many years prior to being formed into a piano rim in order to achieve the sought-after "sweet sound." A.R.E. manipulates temperature, humidity, and atmospheric pressure to literally accelerate the evolution of the wood such that it resonates like that in a lovingly maintained vintage grand piano or, by analogy, a Stradivarius violin. Newly designed hammers further expand the tonal palette of the SX.
The Disklavier ENSPIRE PRO system is the latest and best generation of the reproducing technology Yamaha has been continuously refining since 1987, when it first took acoustic piano automation (recording and playback) to new heights. Today, the resolution of ENSPIRE PRO is capable of recreating musical performances with greater resolution than any other reproducing piano on the market today. Yamaha AccuPlay technology monitors the keys, hammers, pedals, and solenoids, and adjusts in real time to ensure that every dynamic and tonal nuance of the original performance is captured with perfect accuracy.
The control box of previous generations is supplanted by an intuitive mobile app (Apple® iOS and Android™) that controls the piano, as can any HTML5-compatible browser or voice control via Amazon Alexa. This accesses over 500 internal songs plus over 6,000 more that can be streamed directly to the SX ENSPIRE PRO from the Yamaha MusicSoft online store. High-quality streaming services such as Piano Radio and Disklavier TV™ provide premium content such as the Monterey Jazz Festival, a special Elton John concert, and performances by Yamaha artists including Sarah McLachlan, Bob James, and Jamie Cullum. With ensemble performances, the piano part plays in real time while the band plays in perfect sync on the listener's TV or AV system, thanks to the exclusive PianoSoft audio format. Of course, the SX ENSPIRE PRO system can capture the owner's (or any user's) playing just as flawlessly and play it back for later review, making it ideal for music education.
With the Disklavier ENSPIRE PRO system driving the exquisite action and acoustics of the SX Series, the result is effectively a holographic reproduction of the original artists' intentions, as though they were invisibly sitting at the piano bench.
Additional features of the SX ENSPIRE PRO series include:

Included WPS Wi-Fi adapter adds wireless connectivity directly to the piano, either peer-to-peer or on a network.
Silent mode decouples hammers from strings for headphone practice using the built-in Yamaha CFX concert grand sample.
High-quality digital tone generator hosts this CFX sample and more Voices.
USB audio recording function.
"The ENSPIRE PRO took the Disklavier concept to a new level, and the SX Series did the same for Yamaha acoustic pianos," said Gary Klugman, director of marketing, Pianos, Yamaha Corporation of America. "With the two together, discerning piano owners can now truly have the best of both worlds-our finest acoustic pianos integrated with the best reproducing system made."
Pricing and Availability
Yamaha SX ENSPIRE PRO Series (MSRP: S3X ENSPIRE PRO $117,999; S5X ENSPIRE PRO $124,999; S7X ENSPIRE PRO $144,999) will ship in 2018.
For more information, visit the Yamaha Booth at the 2018 NAMM Show in the Anaheim Marriott Hotel, Marquis Ballroom, January 25-28, 2018, or http://4wrd.it/SXSeries
-END-
About Yamaha
Yamaha Corporation of America (YCA) is one of the largest subsidiaries of Yamaha Corporation, Japan and offers a full line of award-winning musical instruments, sound reinforcement, commercial installation and home entertainment products to the U.S. market. Products include: Yamaha acoustic, digital and hybrid pianos, portable keyboards, guitars, acoustic and electronic drums, band and orchestral instruments, marching percussion products, synthesizers, professional digital and analog audio equipment, Steinberg recording products and NEXO commercial audio products, as well as AV receivers, amplifiers, MusicCast wireless multiroom audio systems, Blu-ray/CD players, earphones, headphones, home-theater-in-a-box systems, sound bars and its exclusive line of Digital Sound Projectors. YCA markets innovative, finely crafted technology and entertainment products and musical instruments targeted to the hobbyist, education, worship, music, professional audio installation and consumer markets.