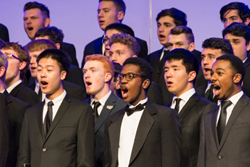 The All-National Honor Ensembles consist of a concert band, symphony orchestra, mixed choir, jazz ensemble, and a guitar ensemble, the newest ensemble for ANHE 2018.
RESTON, Va. (PRWEB) January 24, 2018
This year, five award-winning conductors will lead the National Association for Music Education's (NAfME) premier All-National Honor Ensembles (ANHE) in Orlando, Florida. NAfME is happy to announce the addition of a guitar ensemble to the ANHE program.
The nation's most elite high school musicians will vie for the opportunity to rehearse and perform in a one-of-a-kind national music honors program. The students must first compete at their local, district, and state level to become eligible for this distinguished honor. On November 25-28, these exceptional musicians will gather at Disney's Coronado Springs Resort in Orlando, to showcase their expert musicianship and perform a gala concert celebrating music education and the arts.
The All-National Honor Ensembles consist of a concert band, symphony orchestra, mixed choir, jazz ensemble, and a guitar ensemble, the newest ensemble for ANHE 2018. The concert band and symphony orchestra will each have approximately 120 instrumentalists, the jazz ensemble 20 instrumentalists, the mixed choir approximately 240 vocalists, and the guitar ensemble 60 guitarists. Eligible students have qualified for their state-level honor ensemble program and competed against top students for a spot in these national honor ensembles. In the case of guitar, many states do not have an All-State Guitar Ensemble. Students who participate in their school's guitar ensemble program are permitted to apply. The audition deadline is May 4, 2018, at 9:00 PM Eastern daylight time.
Ensemble members will perform under the baton of five of the most prominent conductors in the United States.
Dennis Glocke will lead the 2018 All-National Concert Band. Professor Glocke was appointed Director of Concert Bands at Pennsylvania State University in 1996. He earned degrees in conducting from Northwestern University, where he studied with John P. Paynter, and in music education from the University of Wisconsin-Madison, where his principal conducting teachers were H. Robert Reynolds and Eugene Corporon. Professor Glocke is frequently invited to serve as a guest conductor and clinician throughout the United States. His ensembles have performed at the Eastern Division Conference of the College Band Directors National Association, the Pennsylvania Music Educators Association State Conference and the Midwest Clinic in Chicago. He has also conducted in some of the country's finest performing venues, including the Morton H. Meyerson Symphony Center (Dallas), Heinz Hall (Pittsburgh), the John F. Kennedy Center for the Performing Arts (Washington, D.C.), the Kimmel Center (Philadelphia), the Chautauqua Institution Amphitheater (Chautauqua, NY), The Music Center at Strathmore (North Bethesda, MD), and Lincoln Center (New York). Read more about Dennis Glocke here.
An accomplished conductor, educator, clinician, lecturer, and performer, Haitian conductor Dr. Jean Montès will lead the 2018 All-National Symphony Orchestra. Dr. Montès is the Director of Orchestral Studies and Coordinator of Strings at Loyola University in New Orleans, Louisiana, where he conducts orchestral ensembles and teaches conducting and string pedagogy courses for music education majors. In addition, Dr. Montès is the Music Director of The Greater New Orleans Youth Orchestra (GNOYO), where he conducts the Symphony Orchestra, which he led in their Carnegie Hall debut and their France tour. Growing up in Port-Au-Prince, Haiti, Dr. Montès studied the cello at the Holy Trinity School of Music. He left Haiti after winning a full scholarship to pursue his bachelor's degree in cello performance at Duquesne University in Pittsburgh, Pennsylvania. He then received an assistantship at the University of Akron in Ohio where he also earned his masters in music education. He completed his Doctorate of Musical Arts in orchestral conducting at the University of Iowa under the tutelage of Dr. William LaRue Jones. Dr. Montès is also passionate about education, and he spent four years in the Fox Valley Area School District (Wisconsin), teaching K-12 strings and conducting multiple ensembles. Read more about Dr. Jean Montès here.
Dr. Amanda Quist is Associate Professor and Chair of the Conducting, Organ, and Sacred Music Department at Westminster Choir College. Dr. Quist will lead the 2018 All-National Mixed Choir. She conducts the Westminster Chapel Choir and Westminster Kantorei, and teaches graduate and undergraduate conducting. She is the recipient of Westminster Choir College of Rider University's 2014 Distinguished Teaching Award, and the 2018 Mazzotti Award for Women's Leadership. Westminster Kantorei, an award-winning early music ensemble, has performed at the American Choral Directors Association's (ACDA) Eastern Division Conference, Boston Early Music Festival, the American Handel Festival, and the choir just released its first commercial recording, Lumina, distributed by Naxos. During her work with the Westminster Symphonic Choir, Dr. Quist collaborated with the New York Philharmonic, The Philadelphia Orchestra, Dresden Staatskapelle, and composers Ola Gjeilo and Tarik O'Regan. Dr. Quist is Director of the Westminster Vocal Institute, and was previously Director of Choral Activities at San José State University. Read more about Dr. Amanda Quist here.
Todd Stoll will lead the 2018 All-National Jazz Ensemble. Mr. Stoll has taught young musicians at every level, from elementary school through college. His impact on public music education can be seen in his legacy at central Ohio's Westerville City Schools, where he served for 18 years as music teacher and for 10 years as music curriculum coordinator. He has also served as Ohio's president of the International Association of Jazz Educators and the inaugural chair of jazz events for the Ohio Music Education Association. In 2011, Mr. Stoll became the Vice President of Education at Jazz at Lincoln Center (JALC) in New York City, which continues to afford him the opportunity to bring jazz education programs to thousands of people of all ages and socioeconomic levels. Since he joined the organization, JALC has produced more than 10,000 education events in the United States and around the world. Mr. Stoll holds a Master of Music degree from the University of Cincinnati College-Conservatory of Music and a Bachelor of Music degree from Miami University. He currently serves on the boards of the Jazz Education Network where he is President-Elect; the New York City chapter of Most Valuable Kids; and NAfME's Music Education Policy Roundtable. Read more about Todd Stoll here.
Dr. Michael Quantz is a pioneer in guitar ensemble curriculum and classroom education for guitar students. Dr. Quantz, Professor of Music at the University of Texas Rio Grande Valley, will lead the inaugural 2018 All-National Guitar Ensemble. He is a recipient of the University of Texas System Regents' Outstanding Teaching Award and the University of Texas at Brownsville President's Outstanding Teaching Award. He served as the Director of Education for the Guitar Foundation of America (GFA), and he is a founding Board Member for the Texas Guitar Directors Association which began its service to music education in 2017. In addition, he was the creator and director of the GFA's International Youth Competition and Guitar Ensemble Showcase. He is also widely known as a conductor and clinician for guitar orchestras, having conducted the Florida Music Education Association All-State Guitar ensemble in 2017, and he has conducted many world premieres for music in this genre. Dr. Quantz's guitar ensembles have toured Austria (by invitation, with performances at the US Embassy in Vienna and at the Schoenbrunn Palace), performed twice for the National Flute Association annual convention, and three times for the Texas Music Educators Association convention. Read more about Dr. Michael Quantz here.
Read more about NAfME's 2018 All-National Honor Ensembles, guest conductor biographies, and how students may audition by visiting: nafme.org/ANHE and follow #ANHE2018.
###
National Association for Music Education, among the world's largest arts education organizations, is the only association that addresses all aspects of music education. NAfME advocates at the local, state, and national levels; provides resources for teachers, parents, and administrators; hosts professional development events; and offers a variety of opportunities for students and teachers. The Association orchestrates success for millions of students nationwide and has supported music educators at all teaching levels for more than a century. With more than 60,000 members, the organization is the voice of music education in the United States.
Jazz at Lincoln Center The mission of Jazz at Lincoln Center is to entertain, enrich and expand a global community for Jazz through performance, education and advocacy. We believe Jazz is a metaphor for Democracy. Because jazz is improvisational, it celebrates personal freedom and encourages individual expression. Because jazz is swinging, it dedicates that freedom to finding and maintaining common ground with others. Because jazz is rooted in the blues, it inspires us to face adversity with persistent optimism.
Follow NAfME on Twitter (twitter.com/nafme) and on Facebook (facebook.com/nafme).