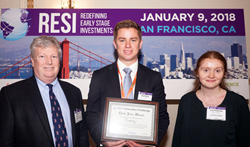 "We are extremely pleased to be recognized by this important group of life-sciences investors and the RESI community." - Kevin Rocco, Biorez CEO
NEW HAVEN, Conn. (PRWEB) January 24, 2018
Biorez, Inc., an early-stage regenerative medicine company, announced that it has won Third Prize in the "RESI (Redefining Early Stage Investments) San Francisco 2018" innovation challenge, which was held during the JP Morgan Healthcare Conference.
"We are extremely pleased to be recognized by this important group of life-sciences investors and the RESI community," said Kevin Rocco, Biorez CEO. Rocco further explained, "Everyone knows ACL rupture remains a huge problem with the same limited solutions. This award helps validate our plan to reinvent this surgery using a tissue-engineered solution."
Biorez's novel approach to anterior cruciate ligament (ACL) reconstruction is focused on a bioresorbable scaffold as a readily available and reliable alternative to existing autograft and allograft options. The proprietary tissue-engineered scaffold is designed to stabilize the knee, encourage ligament regeneration, and resorb away, leaving behind a new functional ACL. The company is currently conducting pre-clinical animal studies to demonstrate the safety and potential efficacy of the technology, in order to support regulatory filings for human clinical study.
The RESI conference is staged by Life Science Nation (LSN). According to the group's website, "Life Science Nation (LSN) was founded by Dennis Ford, CEO, in 2012 to bring a better sales and marketing awareness to the life science community. LSN's goal is to educate scientists in the basic skills required to brand, message, and market their companies…the Redefining Early Stage Investments conference series…provide early stage life science companies the chance to start, resume or close conversations with relevant investors, creating a global dialogue to bring products to market at a faster pace."
About Biorez, Inc.
Biorez, Inc. is a privately held early-stage regenerative medicine company developing bioresorbable scaffold implants to regenerate musculoskeletal tissue. Current R&D is focused on a bioresorbable polymer scaffold for ACL reconstruction that spares harvesting of patient donor-tissue (autograft) and provides a more attractive alternative to cadaver (allograft) options. The company plans to commercialize its novel ACL technology and expand its platform to develop new and innovative clinical solutions. To learn more, please visit http://www.biorez.com.