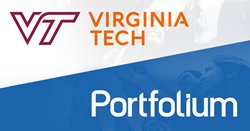 Portfolium will serve as a smart hub for our students to expertly showcase their best work and will enable connections with potential employers, researchers, and other students
SAN DIEGO (PRWEB) January 24, 2018
Portfolium, a leading cloud-based ePortfolio platform that enables students to capture, curate, and convert skills into attractive job offers, has today announced it has partnered with Virginia Tech through their University Libraries.
Virginia Tech was recently ranked as one of the nation's best universities by the prestigious US News and World Report Best Colleges rankings. With excellence in mind, the university aims to apply Portfolium's one-of-a-kind ePortfolio system to help students connect their academic, and co-curricular work to connect career readiness skills for more than 35,000 students. The University Libraries at Virginia Tech are also partnering with other campus units to explore the various assessment offerings within Portfolium.
"Portfolium will serve as a smart hub for our students to expertly showcase their best work and will enable connections with potential employers, researchers, and other students," said Stefanie Metko, Director, Teaching and Learning Engagement, a unit within the University Libraries at Virginia Tech. Kayla McNabb, Interim Head of Instructional Content & Design, Teaching and Learning Engagement, added that, "Portfolium was chosen because the system offered maximum flexibility and allowed us to customize options through a unique partnership. This collaboration enabled us to meet varying needs and demands on campus, ranging from partnering with Student Affairs to showcase co-curricular student engagement such as Living Learning Communities engagement, to college-wide ePortfolio adoption for students looking to connect their curricular, co-curricular and personal lives in a way that is marketable and accessible beyond the University."
"By choosing Portfolium, Virginia Tech reaffirms a commitment to supporting students through the use of cutting-edge educational technologies," said Troy Markowitz, VP Partnerships at Portfolium. "The university's hands-on, engaging approach to education prepares students to be global leaders in their fields and communities, and our partnership will be a key part of highlighting student success at Virginia Tech."
Additionally, Virginia Tech will leverage Portfolium to support a number of specific initiatives, including ongoing pilot group partnerships with, Student Affairs programs the First Year Experience, graduate school programs improvement, along with the Career and Professional Development's competency-based education (CBE) program. Portfolium integrates with the university's Learning Management System (LMS), Canvas, and has the ability to integrate with various badging/digital credentialing systems, including Credly, further improving the visibility and portability of learning. As the Libraries also builds out a new digital literacy program, Portfolium provides opportunities for students to practice and demonstrate skills related to digital identity and wellbeing, online participation and creation, and digital curation.
About Portfolium:
Portfolium is the world's fastest growing learning and career development network. 2,000+ colleges, universities and high schools use Portfolium to manage and align competency assessment, student success, and career readiness programs. Portfolium's academic solutions plug students into an open ecosystem of employers, mentors, educators, and peers around the world. Our 3.5M+ users are linked to internships, jobs, and lifelong learning opportunities via ePortfolios that showcase their proven competencies. To learn more about Portfolium's network for learners and solutions for educators, visit: https://portfolium.com