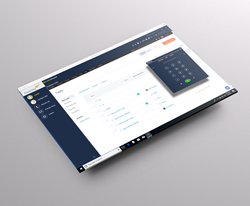 "ChaseData set out to arm the agent with every available advantage to meet their company's business targets and mission." - Ahmed Macklai, CEO
Plantation, FL (PRWEB) January 30, 2018
This new Agent Workstation Application is delivered as a FREE upgrade to all existing ChaseData clients and all new clients effective January 19, 2018 will on-board with this latest upgrade.
The Microsoft Windows® native Agent Workstation Application has been re-developed to seamlessly integrate any web via a refined primary action menu. New upgrades also include crucial information at a glance such as client profile, the lifecycle stage, and other management defined information accessible through API integrations. This new call center enhancement simplifies access to mission critical information and allows each agent to access the tools required to efficiently service calls all in one screen with exceptional usability.
"The most striking new features is our development of a 'Skills Based Interface.' The new Agent Workstation Application delivers access to any web-based third-party application depending on the call being fielded by the agent - instantly. The web applications are associated by URL as a skill at the campaign level by management. Functionally this declutters the workstation interface allowing agents to focus on the caller and the tools required to specifically satisfy that caller. As an operational matter, agents can now be trained and certified with dozens of skills, allowing them to make or answer calls from dozens of campaigns without having to navigate dozens of icons in order to access the right one." - Ahmed Macklai, CEO
Call center managers can easily connect a universe of popular third-party web based applications with the simple addition of a URL at the campaign level as a defined skill. When a call (inbound and outbound) is connected to agents with matching skill, the new Agent Workstation Application's interface instantly displays an icon for the third-party web application need to service the connected caller. By pursuing a skills-based, context driven strategy in combination with just in time access to third-party tools, the new Agent Workstation Application reduces visual clutter thereby empower agents to simply focus on the task at hand.
"This new Agent Workstation Application is the culmination of two decades of creating workspaces for highly effective call center agents. It has been re-engineered from the bottom up by our development team for performance and opening access to the really great third-party apps that our clients have been using for the past few years. Our team's task was to craft a user experience that further boosts productivity, provide context based access to tools and overall make sitting in front of a computer for 8 hours at a time more enjoyable for the agent." - Jerry Delince, CMO
"We pursued this new Agent Workstation Application in order to enhance the user experience. The workstation is where agents perform and were company target are met, lost or exceeded. ChaseData set out to arm the agent with every available advantage to meet their company's business targets and mission." - Ahmed Macklai, CEO
The two pillars of a stellar call center are the human element paired with technical excellence. An army of premier agents can't make up for poor software, and vice versa. ChaseData's new software strives to pair fast access to powerful tools with talented agents thereby producing successful call outcomes.
About ChaseData Corp
Established in 1996, ChaseData Corp has been engineering and delivering robust real-world call center software for over two decades. From the first call center software build custom-designed for Windows 95/Windows NT to today's powerful cloud-based platform, ChaseData continues to engineer powerful, scalable real-world call center solutions for businesses of all sizes. With new features and solutions consistently being offered, ChaseData provides technical call center solutions across multiple industries and transcends geographical boundaries. To learn about ChaseData Corp and discover the most cutting-edge call center solutions in the industry, visit https://www.chasedatacorp.com. For press inquiries please contact Andrea Boyle, 4 Step Studio 1-888-841-7376