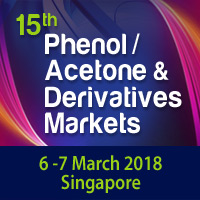 The annual summit is an opportune platform for participants to not only meet phenol, acetone and derivatives producers from China, India, Middle East and other regions but also keep up with the market trends, demand supply dynamics for 2018 and beyond
SINGAPORE (PRWEB) January 30, 2018
The annual summit is an opportune platform for participants to not only meet phenol, acetone and derivatives producers from China, India, Middle East and other regions but also keep up with the market trends, demand supply dynamics for 2018 and beyond. EPC Engineering & Technologies is the Corporate sponsor and a key representative will address the summit.
Leading the discussions at the summit is Mr. Tomoki Miki, Mitsui & Co. with a paper on Phenol/Acetone Market Trends in Asia while Mr. Randy Velarde of The Plaza Group presents insights into Acetone Trade Flow with details of supply/demand imbalances and impact on the markets by region as well as feasibility of exports to USA. A session on 'The Middle East – A New Player in the Market' will be shared by Dr. Qin Kun, Sumitomo Chemical.
Mr. K. Shankar of Deepak Phenolics provides input on India's phenol market demand, with analysis of the derivatives sectors and its plans for downstream products.
A Panel Discussion on 'The Future of Phenol Markets and Consolidation Prospects' will be led by – Mr. Warophat Kimchuwanit, PTT Global Chemical Public Co., Mr. K. Shankar, Deepak Phenolics and Mr. Carlos Diaz Castro, Cepsa Quimica.
Delving into the feedstocks markets, 'Benzene Trade Outlook & Directions' to be discussed by Integra Petrochemicals while Propylene Market Dynamics Moving Forward shared by Nexant. Rongsheng Petrochemical joins the summit with a paper on China's Petrochemicals Outlook.
Organized by Centre for Management Technology (CMT), the summit also covers following key issues:

Global Economic Outlook - ING
Caprolactam & Nylon Market Trends – Fujian Shenyuan New Materials
Global MMA Markets Moving Forward – Mitsubishi Chemical Corporation
Epoxy Resins Market Trends & Demand Forecast – Nan Ya Electronic Materials
Visit event website or call Ms. Grace Oh at +65 6346 9147 for more details.