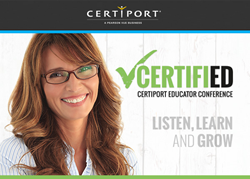 SALT LAKE CITY (PRWEB) January 24, 2018
Certiport (http://www.certiport.com), a Pearson VUE business, today announced the CERTIFIED 2018 Educator Conference, the only conference of its kind dedicated to helping educators explore the full promise and potential of technology certification in the classroom. Educators are invited to attend CERTIFIED from June 13-15, 2018 in Atlanta, Georgia at the Atlanta Marriott Marquis. Early-bird pricing for a full conference pass is $595 until April 15th and registration is open now at
http://www.certiport.com/certified.
CERTIFIED 2018 will include three days of engaging content including certification lab testing, inspirational keynotes, educator-led breakout sessions and workshops, and opportunities to network with hundreds of fellow educators who share a passion for using certification to improve education and change lives. The certification lab will feature expanded hours and stations to allow attendees to certify on one exam of their choice. Attendees will also get the chance to participate in the drama and excitement of the Certiport 2018 Microsoft Office Specialist U.S. National Championship by attending the final awards ceremony.
"Attendance is expected to grow once again as we enter our fourth year of the CERTIFIED Conference, and we are looking forward to a new venue in Atlanta," said Aaron Osmond, general manager, Certiport. "Our attendees have an extremely high satisfaction rate as they find inspiration and direction from certification success stories. They leave with a new passion for using certification in the classroom, and the skills to take their programs to the next level."
CERTIFIED 2018 is ideal for secondary education teachers, college faculty, and administrators who are working to empower their students by bringing certification opportunities into their school and classroom. Conference sessions, all led by educators and certification experts, will focus on best practices and innovative methods for implementing Certiport's portfolio of leading certification programs including Microsoft Office Specialist, Microsoft Technology Associate, Adobe® Certified Associate, Autodesk Certified User, Autodesk Certified Professional, Intuit QuickBooks Certified User, IC3 Digital Literacy certification and the recently launched Certiport Entrepreneurship and Small Business certification.
Keynote speakers for CERTIFIED 2018 will include Kimberly Bryant, founder of Black Girls Code; illusionist Vinh Giang; and Kim Bearden, cofounder, executive director, and language arts teacher at the highly-acclaimed Ron Clark Academy.
The CERTIFIED 2018 call for sessions is open through February 16, 2018 at https://pearson.cvent.com/surveys/Welcome.aspx?s=b2e32dd5-7200-4e5a-8928-e6646e68bd32.
CERTIFIED 2018 also offers expanded sponsorship opportunities with a wide variety of options ranging from bag drops to exclusive reception and meal sponsorships. Register now and find more information at http://www.certiport.com/certified.
About Certiport
Certiport, a Pearson VUE business, is the leading provider of certification exam development, delivery and program management services delivered through an expansive network of more than 14,000 Certiport Authorized Testing Centers worldwide. Certiport manages a sophisticated portfolio of leading certification programs including the official Microsoft Office Specialist certification program, the Microsoft Technology Associate certification program, the Microsoft Certified Educator program, the Adobe® Certified Associate certification program, the Autodesk Certified User and Autodesk Certified Professional certification programs, the Intuit QuickBooks Certified User certification program, the Toon Boom Certified Associate certification program, the IC3 Digital Literacy certification, and the Certiport Business Fundamentals certification program. Certiport reliably delivers more than three million tests each year throughout the secondary, post-secondary, workforce, and corporate technology markets in 148 countries and 26 languages worldwide. For more information, please visit http://www.certiport.com or follow Certiport on Twitter at http://www.twitter.com/certiport.
"Certiport" and "IC3" are registered trademarks of NCS Pearson Inc. in the United States and other countries. The names of actual companies and products mentioned herein may be the trademarks of their respective owners.