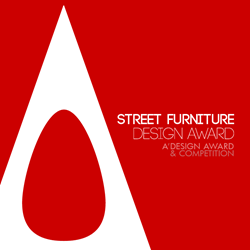 COMO, Italy (PRWEB) January 24, 2018
The A' International Street Furniture Design Awards is an annual event that admits submission from industrial designers, architects, artists, civil engineers and street furniture manufacturers worldwide. The A' Street Furniture Design Competition accepts several different works such as benches, traffic barriers, bollards, taxi stands, public lavatories and more that were proposed and/or completed within the last 10 years.
The A' Street Furniture Design Awards Competition is a recognised international accolade created to promote and highlight the most innovative design projects in street furniture industry. Once a year, a highly reputable jury panel is selected in order to choose and honour the greatest professionals within the industry.
Winners of the A' Street Furniture Design Award Competition will be awarded during Winners' Gala Night Award Ceremony in Como, Italy. All laureates will receive a prestigious A' Design Prize that includes a professional certificate and trophy, lifetime license to use the award winner logo, yearbook of best designs, exhibition of awarded works in Italy, inclusion in World Design Rankings and invitation to Prime Clubs. In addition, A' Street Furniture Design Award winners will also be entitled to have a comprehensive press kit that is prepared and distributed to thousands of press members and media partners.
The late application period deadline to join A' Street Furniture Design Awards is on February 28, 2018 followed by result announcement on April 15, 2018 through the network of the most recognized design and media partners of A' Design Award and Competition.
About A' Design Awards
The A' Design Award and Competition has been established to praise innovative and original design projects from around the World. The primary aim of the A' Design Award is to create a global awareness and understanding for great design practices and principles. The ultimate aim of the A' Design Awards is to encourage designers, companies and brands worldwide to design excellent products and projects which benefit society. To learn more about the A' Design Awards and the A' Street Furniture Design Award, please visit http://www.designaward.com