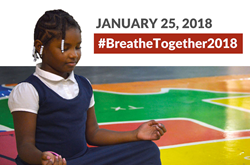 We as adults in the lives of children can model and embody mindfulness in every step we take, building peace in our homes, our communities and our larger world-joining the mindfulness multiplier effect. -Rose, Ivy Child Founder & CEO
BOSTON (PRWEB) January 25, 2018
Ivy Child International, a nonprofit organization devoted to universal mindfulness education, has partnered with lululemon's Here to Be program to launch an intergenerational campaign encouraging adults to model and practice mindfulness to kids and youth. The Breathe Together campaign is designed to help individuals build a mindfulness practice and inspire children to do the same. The goal is to help children, families, and communities develop a daily mindfulness practice resulting in healthier, happier, peaceful, and more compassionate lives. The campaign will run for the entire month of February 2018 and will begin with two kick-off events on January 25, 2018.
Both Breathe Together kick-off events will be held on Thursday, January 25, 2018 at Cambridge College–Boston, 500 Rutherford Ave, Boston. The afternoon session is a free Family Mindfulness Marathon, open to all ages and abilities. Four, 20-minute sessions will be led by lululemon instructors from the Boston area. Because both children and adults can be overwhelmed by the stress, distractions, and conflicts of our world, the session will develop participants' ability to focus on building peace, positivity, and stronger experiences while learning to manage their emotions through mindful breathing and yoga.
The evening event is a panel discussion around Building a Mindful City. It will feature mindfulness experts along with leaders from the nonprofit, healthcare, school system, and community sectors. The panel will focus on how to bring mindfulness to schools and communities in order to build a happier, more peaceful, productive, and compassionate world. 
Tickets and more info are available on the registration website: https://ivychildbreathetogether.rallybound.org
About Here to Be: Here to Be is lululemon's community-based social impact program that distributes grants through their global network of 400+ stores, investing in both national and international partnerships that create access at scale. This year, lululemon Greater Boston region chose Ivy Child as their Here to Be premier nonprofit partner and joined forces to launch the Breathe Together campaign.
About Ivy Child International: Ivy Child is a nonprofit organization pioneering work in the mindfulness movement and education, prioritizing the multicultural needs of children and communities. Ivy Child brings culturally tailored programs to diverse educational systems and communities, with a special focus on urban populations. Learn more about SUPPORTING Ivy Child's work at: http://www.ivychild.org
To learn more, please contact; 
Community Programs Manager of Ivy Child:
Shan Koay skoay(at)ivychild(dot)org