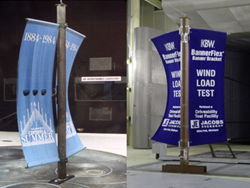 KALAMAZOO, Mich. (PRWEB) February 08, 2018
In order to ensure absolute quality, BannerFlex, in 1984, decided to contract with the GM Aeronautical Laboratory in Detroit. At this high-tech laboratory facility, data is collected and used to guarantee that BannerFlex's banners and banner bracket hardware and other equipment is where it needs to be in strength and durability. Since this first test in 1984, three more tests have been completed as technology has improved and new ideas have developed. The data obtained from these tests is combined with computer modeling and the data acquired from strength testing that is done on site. This compiled data has made it possible for to create a completely unique Wind Force Calculator Program that is available at http://www.consort.com.
Effective projected area (EPA) is one of the major data points obtained through these tests. The EPA is a value that is assigned to outdoor banners and equipment. The value is based on the pole and attached hardware or banner's shape and surface area. A good thing to remember is that banners that are mounted using flexible arm brackets have an EPA value that gets smaller as wind velocity increases.
We are often asked for recommendations on the topic of wind holes or slits in vertical format street banners. Of course, they are meant to allow wind to pass through banners, hopefully to reduce total banner wind load. Believe it or not, they are not a good idea. In both of full-size wind tunnel tests, in 1984 and 2002, banners with wind slits on BannerFlex hardware as well as non-vented banners were tested. In both cases, it was visually obvious that wind holes became, in fact, detrimental to the banners due to vibration and fabric stress within the banner and they tended to increase the wind load rather than reduce it.
The holes allowed the fabric to ripple and catch more wind increasing the drag factor. The fiberglass arms deflected more rather than less indicating more force on the system with the holes than without. Also, the banners vibrated considerably more at 60 mph to 100 mph with the slits than without. The typical slit pattern, requested by unknowing customers, to cut into the banners and seen on many non-KBW banners, do not allow enough wind relief to make a difference regardless of the rippling effect. For example, three (3) 6" diameter "half-moons" cut into a 30" x 94" banner represent 1.5% of the surface area. Twice that number of holes, more than normally seen, is only 3% of the surface area. Therefore, with our BannerFlex fiberglass arm system, we do not recommend wind holes or slits to our customers. For maximum wind reduction, specify the KBW BannerFlex Airow banner bracket.
The Most Important Advancement in Banner Bracket Technology: The BannerFlex Airow® For the crowning achievement in bracket advances, KBW introduced the BannerFlex Airow® Rod, in response to demands from customers in high-wind areas. This unique and proprietary bracket is eccentrically-shaped pultruded fiberglass with a UV coating. The shape allows more than twice the flexibility of the standard full-round arm by providing the necessary structural support nearest the pole and less and less support nearer the outside edge of the banner, thus significantly dissipating the ultimate force on the banner, the utility pole and less vibration onto the luminaire. The eccentrically milled and tapered fiberglass rod allows the BannerFlex Airow rod to deliver measurably higher windforce reduction than any other bracket system available anywhere. Many years of extensive development and testing have proven Airow to be the ideal solution for secure high-wind installations. The Airow rod arm can be used in place of standard round fiberglass arms. KBW continues to research this technology.