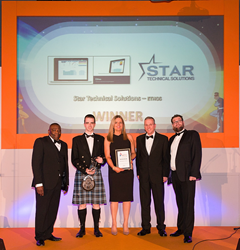 We're thrilled that Ethos has been given the recognition it deserves, and we hope this industry accolade will encourage more customers to try it out and reap the benefits
(PRWEB) January 25, 2018
The refrigeration and heating consultants developed Ethos, a specialist performance optimisation and energy management system after identifying a gap in the market.
Ethos remotely monitors systems by collecting data and carrying out specialised analysis to provide meaningful advice on operational efficiencies to save money and facilitate better informed decisions.
Anne Flanagan, Business Development Manager of STS said, "We are delighted and honored to accept this award for Ethos. It was great to celebrate the hard work and achievements of the wider heating and cooling sector at the annual ceremony – well done to all our fellow winners."
The bespoke system has been found to offer customers 10%-30% cost savings based on the recommendations from the detailed and bespoke analysis software. The system model of the customer's plant calculates the savings, opportunities and inefficiencies to provide insight into what exactly needs to be changed and how much money will be saved as a result. This provides customers with total control over performance and efficiency, which can drastically reduce carbon footprints and save money on energy.
To enable the service, STS install sensors and an Ethos panel to the cooling/heating system. This sends information via the built-in 4G mobile connection to a web portal. This information is displayed on a computer or mobile phone in the form of an online dashboard which gives details on plant performance and current operating conditions and can validate and simplify the UK Government's mandatory Energy Savings Opportunity Scheme inspections. (ESOS)
Flanagan added, "The capacity to analyse the measured data with specialist refrigeration knowledge to produce advice on energy reduction measures for the customer or plant operator has traditionally been a major challenge within the industry. Ready access to this kind of information, along with guidance as to what it means, has been substantially absent on refrigeration plant until this point. We're therefore thrilled that Ethos has been given the recognition it deserves, and we hope this industry accolade will encourage more customers to try it out and reap the benefits."
Director of Star Renewable Energy, Dave Pearson, another Star Refrigeration company, commissioned an Ethos in the Glasgow Gorbals Sports Centre to accumulate gas consumption data. Pearson said "whether making cooling or heating assessments, data is of paramount importance and not just utility meter data but real time, short interval logged data of actual hot water use. This will allow us to correctly size a water source heatpump harvesting heat from the Clyde to save money and reduce CO2 as well as eliminating local NOx emission for the heat provided. ETHOS is key in this assessment."
Find out more about the NACRHP 2018 Awards Ceremony here: http://www.acrheatpumpawards.uk/
To find out more about Star Refrigeration and why the company has been nominated, go to: http://www.star-ts.co.uk/