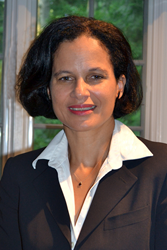 "Our vision is to have multi-disciplinary teams using system wide resources to deliver the right care at the right place for every patient, at the right time with the right cost and the right transition of care." Dr. Valerie Allusson, CMO
Montclair, NJ (PRWEB) January 24, 2018
As part of its ongoing patient focused commitment to medical excellence, Hackensack Meridian Health Mountainside Medical Center has implemented a Patient Safety and Quality initiative called Highly Reliable Rounding (HRR), a multi-disciplinary approach to bedside rounding that delivers improved care coordination, patient-centered care and team building, and better patient outcomes.
When HRR was implemented in 2016, initial results showed patient satisfaction rates at 83% for patients who receive Highly Reliable Rounding. As the hospital continues to develop the model HRR patient satisfaction rates have risen to 90% – a significant increase in a short period time. Additional benefits of HRR in the hospital setting are decreased length of stay and readmissions, enhanced patient safety, decreased inappropriate utilization of certain procedures, reducing medical costs through greater efficiency, and improved clinical outcomes yielding savings to the patient and hospital.
The pillars of the HRR initiative are sharing real-time information between all providers with the patient as a partner in the center, performing quality safety checks, and engaging the patient and the team in discharge planning to assure a safe transition of care at time of discharge.
"Mountainside Medical Center has used Highly Reliable Rounding to rethink the healthcare system and change the results by developing a successful Patient Safety and Quality initiative," said Valerie Allusson, MD, VP Clinical Effectiveness and Medical Affairs of Mountainside Medical Center. "Providing the optimal patient experience is at the heart of this structured, interdisciplinary process for bedside rounds."
The Highly Reliable Rounding model was developed by Dr. Allusson, who was instrumental in implementing the procedures at the hospital. The process involves active engagement of all relevant stakeholders, including the Internal Medicine residency program, Nursing, Pharmacy, Physical Therapy, Case Management, and Patient Representatives with the support of hospital leadership.
"Highly Reliable Rounding is a work in progress that requires teamwork and constant reevaluation with a goal of fostering improved interdisciplinary communication between each stakeholder," explained Allusson. "Our vision is to have multi-disciplinary teams using system wide resources to deliver the right care at the right place for every patient, at the right time with the right cost and the right transition of care."
Due to its success and widespread interest, the HRR model of interdisciplinary rounds has been presented at multiple national meetings and academic medical conferences.
About Hackensack Meridian Health Mountainside Medical Center
Mountainside Medical Center has been serving Montclair and its surrounding New Jersey communities since 1891. The hospital provides patients immediate access to innovative and effective treatment alternatives at specialized centers within the hospital that focus on imaging, women's health, cancer care, surgery, obesity, stroke and chronic kidney disease. Mountainside Medical Center is designated as a Primary Stroke Center by the NJ State Department of Health and Senior Services and is one of only a few community hospitals licensed by the State to perform emergency cardiac angioplasty. To learn more about Mountainside Medical Center visit http://www.mountainsidehosp.com.
ABOUT HACKENSACK MERIDIAN HEALTH
Hackensack Meridian Health is a leading not-for-profit health care organization that is the most comprehensive and truly integrated health care network in New Jersey, offering a complete range of medical services, innovative research and life-enhancing care. Hackensack Meridian Health comprises 13 hospitals, including two academic medical centers, two children's hospitals and nine community hospitals, physician practices, more than 140 ambulatory care centers, surgery centers, home health services, long-term care and assisted living communities, ambulance services, lifesaving air medical transportation, fitness and wellness centers, rehabilitation centers, and urgent care and after-hours centers. Hackensack Meridian Health has 28,000 team members, more than 6,000 physicians and is a distinguished leader in health care philanthropy, committed to the health and well-being of the communities it serves.
The Network's notable distinctions include having one of only five major academic medical centers in the nation to receive Healthgrades America's 50 Best Hospitals Award for five or more consecutive years, the number one hospital in New Jersey as ranked by U.S. News and World Report, consistently achieving Magnet® recognition for nursing excellence from the American Nurses Credentialing Center, recipient of the John M. Eisenberg Award for Patient Safety and Quality from The Joint Commission and the National Quality Forum, a six-time recipient of Fortune's "100 Best Companies to Work For," one of the "20 Best Workplaces in Health Care" in the nation, and the number one "Best Place to Work for Women." Hackensack Meridian Health is a member of AllSpire Health Partners, an interstate consortium of leading health systems, to focus on the sharing of best practices in clinical care and achieving efficiencies.
The hospitals of Hackensack Meridian Health include: academic medical centers – Hackensack University Medical Center in Hackensack, Jersey Shore University Medical Center in Neptune; children's hospitals – Joseph M. Sanzari Children's Hospital in Hackensack, K. Hovnanian Children's Hospital in Neptune; community hospitals – Ocean Medical Center in Brick, Riverview Medical Center in Red Bank, Mountainside Medical Center in Montclair, Palisades Medical Center in North Bergen, Raritan Bay Medical Center in Perth Amboy, Southern Ocean Medical Center in Manahawkin, Bayshore Medical Center in Holmdel, Raritan Bay Medical Center in Old Bridge, and Pascack Valley Medical Center in Westwood.
For additional information, please visit http://www.HackensackMeridianHealth.org.