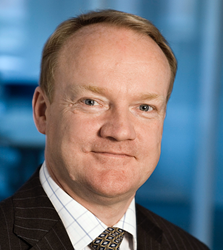 NVT Phybridge will be an enabler for the IoT revolution I am genuinely excited to be part of the management team.
Oakville, ON (PRWEB) January 29, 2018
NVT Phybridge today announced that Glenn Fletcher has been named EMEA Regional Sales Manager. Glenn will be guiding the European Sales team from his UK based office where he will provide leadership and mentoring to the team. NVTP is delighted to have Glenn bring his many years of security market experience to help our partners, distributors and customers make the transition to IP.
"Glenn's unique blend of experience across the security, infrastructure and telephony markets make him a perfect fit for our needs. We are absolutely excited to have Glenn take the leadership of our European team and are supremely confident he will bring a well-rounded approach to the needs of all of our customers who are migrating to IP," says Global EVP Steven Fair of NVTP. "The growing demand for cost effective Long Reach Ethernet network solutions in both the CCTV space as well as the IP telephony is exploding with the advent of IoT. Our line of CHARIoT switches will be at the core of Glenn's focus and we are delighted to work with our partners Cisco, Avaya, Mitel and Axis under his leadership."
Glenn's previous experience includes being on the Board of directors for Wavestore Global Ltd. where he worked at increasing market share, working through distribution, selecting channel and solution partners, and managing teams of external sales, internal channel managers, and pre-sales engineers. He has taken on several high-level roles at both Milestone Systems, managing their UKI team of sales, support and pre-sales teams, as well as the position of Divisional Manager at Gardiner Security for all Integrated System products requiring IP connectivity. Prior to that, Glenn worked in the world of data cabling, networking, and telephony, engaging with both partners and end users.
"NVT Phybridge will be an enabler for the IoT revolution I am genuinely excited to be part of the management team" said Glenn Fletcher. "With my technical knowledge and customer relations experience in IP Security, IP Telephony, and Data disciplines, I am confident I can grow and lead the EMEA team to ensure we provide a seamless IoT experience to all consultants, installers, systems integrators, distribution partners, and end users."
About NVT Phybridge
NVT Phybridge is the leader in Power over Long Reach Ethernet (PoLRE), making IP connections in far places quick, easy and cost-effective. Our CHARIoT Series of switches help customers migrate to an IP-based network, transforming the existing or new infrastructure into an IP path with power. We are a North American-based technology company with global reach dedicated to practical innovation. Our number one priority is bringing innovative and affordable solutions to market that are technologically advanced as well as practical for the customer.