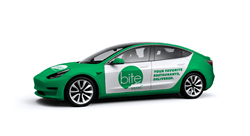 We're always looking for ways to implement advancing technologies in our company.
MINNEAPOLIS (PRWEB) January 25, 2018
Bite Squad today announced they will test the Tesla Model 3 as part of their food delivery vehicle fleet, initially in Minneapolis, Minnesota. The trial of an all-electric vehicle is a first step in the company's effort to transition their existing hybrid-electric fleet to fully electric vehicles in the coming years.
"On an average day, we have delivery drivers navigating thousands of food deliveries through the streets of 30 metropolitan markets across the country," said Bite Squad co-founder and CEO Kian Salehi. "Our existing hybrid cars significantly cut emissions, but an all-electric fleet would be completely emissions-free. This is where we want to be."
Among its delivery areas, Bite Squad currently deploys a fleet of hundreds of Toyota Prius full hybrid automobiles, supplementing their squad of employee drivers' personal vehicles.
"We're always looking for ways to implement advancing technologies in our company," said Salehi. "When we launched in 2012, the goal was to reduce the environmental impact of our fleet by using as many hybrid vehicles as we could. The goal is the same today, but the technology has changed. We now have an opportunity to further reduce our impact with an affordable battery-powered car."
The Tesla Model 3 has an EPA-rated all-electric range of 220 miles. It offers semi self-driving capabilities with Tesla's Enhanced Autopilot system, and will eventually have full self-driving capability with software updates promised to be rolled out over time. According to Salehi, the self-driving feature is a big draw, and a considerable factor in the decision to test the Model 3. "Automated cars are the future of food delivery," he says.
The consideration of assimilating the groundbreaking Tesla Model 3 into the Bite Squad business model underscores the company's commitment to leverage the latest in technology for a convenient and valuable delivery experience. Other tech-focused initiatives Bite Squad is implementing this year include an expanded integration of machine learning applications, the acceptance of digital payment methods and substantially improved product support functions within both consumer-facing and internal technology.
###
ABOUT BITE SQUAD
Bite Squad is a leading independent provider of online and mobile food ordering and delivery services in the United States. Founded in the summer of 2012 in Minneapolis, Minnesota, Bite Squad has partnered with local restaurants across more than 30 metropolitan areas, hand-picked a best-in-class customer support squad, and assembled a fleet of environmentally friendly vehicles to deliver fresh food from the restaurant straight to your door, quickly and hassle-free.
To learn more about Bite Squad or to download the Bite Squad mobile apps, visit bitesquad.com. For restaurants interested in working with Bite Squad, please visit bitesquad.com/sales.