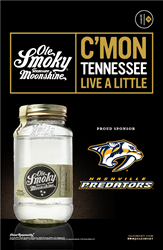 GATLINBURG, Tenn. (PRWEB) January 25, 2018
Ole Smoky Distillery LLC announced today that they have become a preferred partner of the NHL's Nashville Predators. Starting right now in the middle of the 2017-2018 season, Ole Smoky will be available at Bridgestone Arena during each home game, and during all other events the arena hosts.
"To say the people of Nashville have incredible loyalty and passion for their Nashville Predators is an understatement," says Chris Burton, Director of Premium Sales for the Nashville Predators. "Ole Smoky's authenticity and commitment to its Tennessee roots reminded us so deeply of our fans, that it only made sense to bring the moonshine brand to Smashville."
Fans will notice Ole Smoky branding throughout the arena and signature moonshine cocktails served at multiple bars. Ole Smoky will also be a title sponsor of the 103 Lexus Lounge Bar. Co-branded with Yee Haw Brewing, the lounge will feature complimentary samplings and promotional giveaways for guests to enjoy.
"Teaming up with the Predators is a great fit for Ole Smoky. Their fans make up one of the best atmospheres in professional sports, and we are eager to take part in as well as continue to build upon Golden Moments inside Smashville,"says Robert Hall CEO of Ole Smoky. "This partnership will bring more excitement to the fall 2018 opening of our 4th distillery in Nashville (located at 6th and Peabody), which will be walking distance from the arena. Fans will be able to come over to our bars and courtyard, before and after games."
The moonshine company has signed a two-year contract with Bridgestone Arena, which means not only will Ole Smoky be available during hockey games, but guests will also be able to enjoy TN's first legal moonshine during all other events held at the venue. Both companies look forward to creating a fun experience for fans.
For more information about Ole Smoky please visit http://www.olesmoky.com.
About Nashville Predators:
The Nashville Predators became the National Hockey League's 27th team on May 4, 1998 and have evolved from a young expansion franchise into a staple of the Middle Tennessee community in the 19 years since. The team strives each season to reach its One Goal: becoming a Stanley Cup Champion hockey team while making Bridgestone Arena number one sports and entertainment venue in the United States. With One Goal in mind, the team saw its greatest success in team history when they made it to Game 6 of the 2017 Stanley Cup Final.
About Ole Smoky Distillery LLC:
Ole Smoky is the leading distiller of premium moonshine in the U.S. and the first federally licensed distillery in the history of East Tennessee. The company's roots can be traced to the early settlers of the Smoky Mountains. Which means this isn't just moonshine, it's moonshine made with authenticity and enduring pride of the people of the Tennessee Mountains. In 2009, the law in Tennessee changed and suddenly, it was legal to make, distill and sell the infamous bootlegger's hooch. It was at that point that a group of families decided to bring their artistry of superior moonshine making to the world at large.
And the world welcomed it. Ole Smoky was named an Impact Hot Brand by M. Shanken Communications, a leading publisher in the U.S. wine & spirits industry. The Hot Brand Award is given to both established and upcoming brands that achieve double-digit growth in each of the past three years, with a minimum of 200,000 cases. Additionally, people from all over the world visit the famed Gatlinburg Distillery, The Holler™, to see and experience how Ole Smoky moonshine is made.
Ole Smoky now retails globally and offers more than twenty creative flavors crafted from authentic family recipes. And while Ole Smoky has long been enjoyed on the porch from the jar or the jug, Ole Smoky now finds itself mixed in handcrafted cocktails of the finest order in establishments across the U.S. including at some of the biggest music and sporting events in the country.
For more information, please visit http://www.olesmoky.com and find them on social media @olesmoky.
Shine Responsibly®
©2018 Ole Smoky Distillery, LLC. All Rights Reserved. OLE SMOKY, OLE SMOKY TENNESSEE MOONSHINE, OLE SMOKY WHISKEY, and SHINE RESPONSIBLY are registered trademarks of Ole Smoky Distillery, LLC.
Media Contacts
Amanda Mountan
Ole Smoky Distillery
805.208.9422