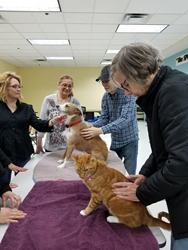 "We want our staff to be trained on the latest pet first aid and CPR techniques just in case something unexpected happens to an animal while in our care." Joette White, President of Park Cities Pet Sitter
DALLAS (PRWEB) January 24, 2018
In a pet emergency, every minute counts. Recognizing the importance of this, fourteen Park Cities Pet Sitter employees participated in pet first aid and CPR training on Jan. 20-21. The four-hour training sessions, conducted by Arden Moore of Pet First Aid 4 U, covered topics ranging from how to perform a head-to-tail wellness assessment on a pet; how to administer CPR and rescue breathing; how to restrain an injured or sick pet; how to identify signs of heat stroke and frostbite; how to render first aid when a pet is bleeding or choking and much more.
The Park Cities Pet Sitter staff participated in the training over two days at the SPCA of Texas' Jan Rees Jones Animal Care Center in Dallas. Upon completion of this veterinarian-approved training, PCPSI staff members received a certificate of completion, valid for two years.
Park Cities Pet Sitter President, Joette White, said providing ongoing training for her pet sitting staff is one of the ways they differentiate themselves from competitors in the Dallas, Richardson and Plano markets.
"Pet sitters have a lot more responsibility than you might think," said White. "We are entrusted to care for people's precious animals on a daily basis, to not only provide basic food, water, love and exercise—but also to make decisions about their safety in the case of emergencies. We take that responsibility very seriously, and as a result, want our staff to have as much knowledge as possible when it comes to handling a pet health emergency. We are not vets, but we train our staff to look for signs of pet health issues, and to communicate about them when they arise. We know that with any health emergency, time is of the essence, so we want our staff to be trained on the latest pet first aid and CPR techniques just in case something unexpected happens to an animal while in our care."
Pet First Aid 4 U founder, Arden Moore, agrees that regular training on pet first aid and CPR techniques should be a priority for every pet services business. Her Pet First Aid 4U program offers customized training for pet professionals and features the country's only active cat-dog teaching duo of Pet Safety Cat Casey and Pet Safety Dog Kona.
"Pets are like children to many folks in this country, so keeping them safe has to be a priority for every pet professional," said Moore. "Park Cities Pet Sitter really understands the importance of regular training in pet first aid and CPR, and are leading the way when it comes to having the most prepared pet sitters in this market."
About Park Cities Pet Sitter: PCPSI has served the Dallas/Plano areas 7 days a week, 365 days a year since 1992, and was recently named the 2017 Business of the Year by the National Association of Professional Pet Sitters. Pet sitting, daily dog walks, pet taxis, overnight sitting, pet supply shopping, and dog training are all part of the services PCPSI offers. Park Cities Pet Sitter is bonded and insured, and all sitters are employees--not independent contractors. A manager is on-call 24 hours a day to handle any emergencies. Go to http://www.pcpsi.com to learn more.
About Arden Moore: Arden Moore, America's Pet Health and Safety Coach™, is a pet behavior consultant, master certified pet first aid instructor, best-selling author, in-demand speaker and host of the Oh Behave Show on Pet Life Radio. She also teams up with her rescued dog and cat, Kona and Casey, to conduct pet behavior and veterinarian-endorsed pet first aid classes as part of her company, Pet First Aid 4 U. Learn more about Arden at http://www.petfirstaid4u.com.