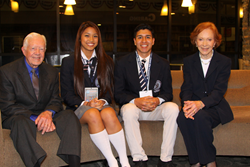 "St. Genevieve High School is the best I've ever known." -President Jimmy Carter, 2015
PANORAMA CITY, Calif.; PASADENA, Calif. AND LOS ANGELES (PRWEB) January 24, 2018
Students at St. Genevieve High School in Panorama City, CA have joined the current Women's Movement in a BIG way. They will premiere their documentary on an iconic and groundbreaking former first lady, Rosalynn Carter, at the Rose Bowl Stadium on Friday, February 2nd.
Women's voices are being heard loudly and clearly across our nation. Yet, the story of one of the world's most influential change agents is largely unknown. Due to her demure nature and humble spirit, her vast accomplishments are largely unknown to a world where her influence has touched millions. The students and staff at St. Genevieve are hopeful their documentary is going to change that.
The documentary is different from what most will expect. Instead of a traditional PBS-like approach, Rosalynn's story is lovingly told and narrated by the students. She has become a friend to the St. Genevieve Community, and the point of view is that of curious students. "We were challenged by our principal to learn more about this modern-day role model. As our minds grew, so did our hearts," said Sean See, class of 2009
On February 2, 2018, President and Mrs. Carter, along with family and friends from their hometown of Plains, will join the St. Genevieve family at the Rose Bowl for the premiere of Dear Rosalynn on the jumbo-tron. Students, staff, and parents from both St. Genevieve Elementary School and High School will be present for the historic occasion. The public is invited to attend as well. For more information go to: http://sgps.org/rosalynn/
The Carters have an unprecedented relationship with St. Genevieve elementary and high schools. Although neither of the Carters attended the school, they have visited on several occasions and the staff and hundreds of students have visited them in their hometown of Plains for more than a decade. The documentary details this unusual relationship.
"Rosalynn's story is a powerful narrative about how one woman can change the world for generations. Her legacy is clearly connected to the inspiring change we are seeing for women across this country right now. As women continue to step out of the shadows to speak their truths, it seems critical that we tell Rosalynn's story: a story of both strength and compassion," said Kara Ukolowicz, English teacher
Video: https://www.youtube.com/embed/h_6dk7SAfTA?wmode=opaque