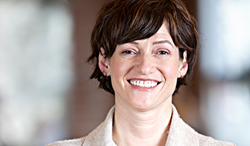 We're looking forward to expanding our clean energy "Utility of the Future" consulting initiatives.
SEATTLE (PRWEB) January 31, 2018
Energy advisory firm EMI Consulting today announced it has hired Julie Rey as president. Recognized for her expertise in driving business growth and supervising global consulting teams, Ms. Rey will be responsible for expanding EMI Consulting's market share, deepening its strategic "Utility of the Future" service offerings, and managing the company's growing staff.
"We're pleased to have Julie join our leadership team," said Rob Bordner, EMI Consulting founder and CEO. "It's an exciting time for our industry. The nation's energy future is in the middle of a radical shift driven by unprecedented technological innovation, global climate change, and geo-political uncertainty. We see this as a perfect opportunity for the expansion of our clean energy 'Utility of the Future' consulting initiatives. Julie's leadership will be instrumental during this time of company growth."
With a twenty-year track record of profitability, premier clients, and consulting bench strength, EMI Consulting is poised to achieve significantly greater success. As president, Ms. Rey will report to CEO Rob Bordner, joining him in defining the company's long-term strategies and fostering efficient business growth. The creation of this position enables Mr. Bordner to focus on strategic market direction, high-level project conceptualization and design, and new business development.
"I'm excited about working with this visionary and talented team," said Julie Rey, EMI Consulting president. "The company is well-known for its in-house strategic and analytical talent, depth of industry partnerships, cutting-edge technological expertise, and passion for delivering the best consulting experiences. Being able to lead the company to greater levels of growth is a fantastic opportunity."
Ms. Rey was most recently vice president and market lead for global management consulting firm North Highland Consulting. Prior to that she held positions as managing director for Strong-Bridge Consulting, vice president/business process improvement for Safeco Insurance, and director/Six Sigma Black Belt for Western Wireless Corporation. She brings expertise in leading companies through substantial growth cycles, designing and streamlining service processes, advancing consulting methodologies for enhanced client experiences, training leaders, and improving profitability. Ms. Rey holds a master's degree in organizational communication from the University of Washington, and bachelor's degrees in rhetoric and Italian from the University of California at Davis.
About EMI Consulting
EMI Consulting advises electric and gas utilities nationwide on business strategies related to new market opportunities, distributed and renewable energy, energy efficiency, and customer engagement. Founded in 1995, the company is recognized for industry leadership in three key areas: strategy and evaluation, data analytics and modeling, and customer experience research. Headquartered in Seattle, the company also employs staff in Philadelphia, Minneapolis, Portland, and Los Angeles. More information is available at http://www.emiconsulting.com.