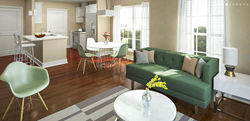 Brand consultation – from site selection, construction, to marketing – is not a necessity limited to high-rise residential assets or large-scale portfolios.
Richmond, VA (PRWEB) January 24, 2018
Encompassing 45 designated historic districts, The Richmond Metro area has experienced a resurgence, being dubbed a "foodie town" and attracting new residents. This is due in part to the transformation that has taken place in the area's multifamily housing options, bringing life back to historic districts through the redevelopment of dated and underused buildings into boutique apartment communities that revitalize neighborhoods and create a sense of place for residents.
Drucker + Falk, a full service real estate and investment firm, is the exclusive property manager for Oliver Properties' portfolio of eight apartment communities ranging from 4 to 120 units throughout the Richmond metropolitan area and is responsible for resident leasing, ensuring the exceptional quality of all property amenities, and resident services. Additionally, Drucker + Falk provides branding services to new and existing properties.
One of the most recent projects on which Drucker + Falk provided branding and now is professionally managing is Carytown Crossing, a four-building, three-story apartment community consisting of 50 units developed by Oliver Properties. Featuring brick-and-stone exteriors with columns, private balconies, pitched roofs, reserved off-street parking, stunning interiors featuring modern finishes and historic charm and extensive landscaping, Carytown Crossing was designed to both fit into the neighborhood and elevate it. Located in the heart of the Museum District, a Victorian neighborhood featuring row houses built between the 1920's and 1940's on tree-lined streets, the new apartment community spans an entire city block and replaced an antiquated medical office park. Demand for housing in Richmond's most unique and vibrant restaurant, entertainment, and shopping district led to Carytown Crossing being fully leased prior to opening with rental rates that continue to exceed Richmond's average per square foot rate, which is $1.13 as of third quarter 2017.
"Partnering with Drucker + Falk has resulted in our real estate portfolio reached our NOI, occupancy, and resident relations goals faster because of their superior people, experience, proven marketing and management systems, and reputation for client communication and support," said Justin Oliver, President & CEO, Oliver Properties.
According to Andrew Chisholm – Director of Multifamily Management with Drucker + Falk, "Brand consultation – from site selection, construction, to marketing – is not a necessity limited to high-rise residential assets or large-scale portfolios. We believe that there is an ongoing need for brand consultation services with smaller boutique apartments or restoration and conversions of historic buildings into upscale multifamily housing, especially as investors seek out infill locations in secondary markets that can provide the return on investment that is tapped out in many primary markets."
Oliver Properties portfolio also includes:
1. The Fan: 2504 Grove Avenue
2. Museum District: Kensington Place and Patterson Place
3. East End: Highland Woods, Highlands Townhouses, and 201 S. Kalmia Avenue
4. South Side: Rock Creek
Founded in 1938, Drucker + Falk is a full service real estate and investment firm, managing a diverse portfolio of nearly 30,000 apartments in nine states. Drucker + Falk specializes in multifamily management of all asset types including new development and construction consultation as well as lease ups, restoration and upscale multifamily conversions. The company also provides services for asset repositioning and stabilization of challenging properties, mixed use management and due diligence. To obtain more information contact Jim Ledbetter, President & COO, jledbetter(at)druckerandfalk(dot)com, or 757.926.5067.