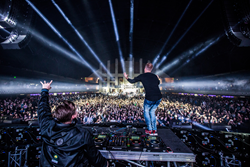 "Ned's vision and collaboration makes The Armory among the most exciting venues we've utilized."
MINNEAPOLIS, Minn. (PRWEB) January 24, 2018
The Armory and Nomadic Entertainment Group announced today the debut of the Players Ball Extravaganza following the Big Game on the evening of Sunday, Feb. 4. This spectacular event features some of the biggest names in the hip-hop world including Diddy, DJ Khaled, French Montana, Cardi B, G-Eazy and Busta Rhymes. Doors open for this epic ultimate hip-hop extravaganza at 11pm. Joining the headline acts on the stage will be DJ D Nice, DJ Kid Capri and Kenny Burns. Tickets start at $99 at http://www.ticketmaster.com . A limited number of VIP tables are available for the night's performances at http://www.nomadicentertainment.com .
"We have always wanted to do a postgame performance and the venue's close proximity to the stadium makes this the perfect time to throw the biggest post-event party in the Twin Cities," said Jack Murphy, President of Nomadic Entertainment Group. "We've assembled some of the most prominent names in the hip-hop world and they intend to make the evening their own personal party. It should be an incredible night and a great way to finish our run at NOMADIC LIVE! at The Armory."
Delivering on its promise to serve as the epicenter of entertainment leading up to the Big Game, NOMADIC LIVE! has put an exclamation mark on its visit to Minneapolis by producing an unprecedented fourth night of world-class entertainment at the historic Armory in downtown Minneapolis. A very limited number of tickets still remain for Imagine Dragons, as part of the EA SPORTS Bowl on Thurs, Feb. 1, P!NK on Fri., Feb. 2, and Jennifer Lopez, as part of DIRECTV NOW's Super Saturday Night on Saturday, Feb. 3. Tickets for all events are available for purchase at Ticketmaster.
"We are thrilled to bring the legendary Players Ball nightlife experience to Minneapolis. We've gathered the Super-Friends of hip hop to give party-goers a blockbuster, hip-hop extravaganza," said Damion D-Roc Butler from Combs Enterprises and I. B Entertainment. "We are making history. It will be a memorable night for that attending this inaugural event, but this night is just the start of something very special and a precursor to what will come in Atlanta next year when the big game descends upon the Peach State."
Swervo Development is partnering with Nomadic Entertainment, one of the nation's leading producers of the biggest and most lasting premium entertainment events, to present some of the biggest, mega-stars in the entertainment world.
"Ned Abdul has taken a historical property and made it the perfect venue to host A-list talent, providing a platform for corporations to engage in stunning activations and hospitality while not sacrificing the experience for concert goers," said Jack Murphy, president of Nomadic Entertainment. I've been producing premium nightlife experiences and events for decades and Ned's vision and collaboration will make The Armory among the most exciting venues we've utilized to entertain fans and corporations."
Abdul bought the Armory in 2015 as part of his longtime practice of enhancing underappreciated downtown real estate. He rejected the Historical Tax Credit funding option of accepting public dollars and the regulatory strings that come with such a subsidy.
"We took a building that was so tired, in a city that we care about, and made it into something that Minneapolis can be proud of," he said. "The Armory has the potential to be a great asset for us and the Twin Cities. This building has personality. For a building of this size (300,000 square feet counting the space for parking), and combined with the amount of detail that has been put into the restoration, things are only going to get better."
The Armory is designed with tiered mezzanines offering private VIP sections with a one-of-a-kind white-glove experience. Parties interested in VIP tickets should visit our dedicated website at http://www.NomadicEntertainment.com for more information.
***Attention editors and reporters – to help supplement your stories about the historic Minneapolis Armory venue – video and digital photo files are available upon requests.
About Swervo Development Corporation:
Ned Abdul of Swervo Development Corporation owns, operates, manages, and leases several buildings in the Downtown Minneapolis District as well as many other properties in the Twin Cities area and in other major markets outside of Minnesota. Swervo Development Corporation, which also operates under the name Swervo Holdings, is located in Minneapolis, Minnesota.
For more information go to http://mplswarehouse.com/member_dir/swervo-development/
About Nomadic Entertainment Group
With brands and consumers demanding more personalized and premium experiences at marquee events, Nomadic Entertainment Group was formed to deliver live entertainment and high-end hospitality at the world's largest sports and entertainment occasions. The company's vision comes from Jack Murphy, who for nearly three decades has produced and executed the biggest and most lasting premium entertainment extravaganzas including last year's mega-successful Club Nomadic in Houston.
More information is available with Lia Giordano, The Brand Amp lia(at)thebrandamp(dot)com ; 949-438-1089 or Danielle Grado, The Brand Amp danielle(at)thebrandamp(dot)com ; 949-438-1071
###