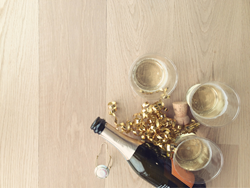 From colors to textures such as Shou Sugi Ban, Sustainably Harvested is easy to get creative with
FARMINGTON, N.Y. (PRWEB) January 26, 2018
Pioneer Millworks introduces Sustainably Harvested, a sleeker more modern wood line of products including flooring and paneling, sourced and manufactured in an eco and socially responsible way. Available in a variety of species, the Sustainably Harvested products are being offered in high grades with a more uniform appearance than their reclaimed wood counterparts.
"While reclaimed wood will always have our hearts, we understand that sometimes designers, architects, builders, and homeowners are in the market for something with a smoother complexion and less character," said Jered Slusser, Wood Design Expert at Pioneer Millworks. "Sustainably Harvested fits those needs and can be a more affordable option."
With less tonal variation and fewer knots, these fresh sawn products offer a cleaner, more homogeneous look. "The consistency of our freshly harvested species pair great with our various eco-friendly finishes," continued Slusser. "From colors to textures such as Shou Sugi Ban and Raked, Sustainably Harvested is easy to get creative with."
Sourcing Sustainably Harvested wood flooring and paneling is consistent with the company's ethos including options from FSC-certified forests as well as from incidental harvest species, standing dead, and small well-managed family forests. "We've long been FSC chain of custody certified. The additional sources allow us access to a greater selection of species from reputable, sustainable advocates," said Slusser.
Sustainably Harvested wood options include Ash, Hickory, Walnut, Maple, Oak, Indonesian Teak, and Larch – with other species being introduced throughout 2018. As a standard, the line is offered in solid and engineered wood products in a 5 ½" face width. Customization can include a variety of alternate widths, pre-finish colors, textures, and mill profiles. Full fabrication for fixtures, build-outs, furniture, and more is also offered by the company.
About Pioneer Millworks:
Pioneer Millworks is the leader in the reclaimed wood industry, with experienced wood design experts working directly with clients and mills crafting products from both coasts. To date, they've rescued nearly 28 million board feet of old wood from rot and landfills, giving it new life as flooring, paneling, millwork, cabinetry, and more. All of their wood products are manufactured in a way that's healthy for customers, employees, and the environment. Pioneer Millworks is FSC-certified and Green America approved. All of their products are LEED point eligible.