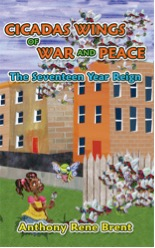 A simplistic way of introducing the tiny creatures.
Baltimore, Maryland (PRWEB) January 29, 2018
Within the pages of Anthony Rene Brent's new book Cicadas Wings of War and Peace readers will meet Olivia and her two cicada friends, Miya and Mora. Growing up in Baltimore, Maryland, in 2004, Olivia is lucky enough to meet these cicadas since they only come around every seventeen years. Together the cicadas help Olivia through tough times.
A fun and fantastic journey for the whole family, Cicadas Wings of War and Peace will bring families closer through a new experience to look forward to together in 2021.
"Many young children born after 2004 have never encountered the seventeen-year cicadas, Brood X-10," states the author. "The book is a simplistic way of introducing the tiny creatures and it will bring back memories of the cicadas from years past."
About the Author
Anthony Rene Brent is a judicial officer and is semi-retired from law enforcement. He grew up with the cicadas returning four times in his lifetime. He is currently working the sequel, Cicadas Return, which finds Olivia at age twenty-one with two children of her own who have their own adventures with the cicadas when they return in 2021. He is adapting both works into screenplays as well. For more information about the author, visit CicadaWings.com or contact RightSideOfQuadrant(at)hotmail(dot)com.