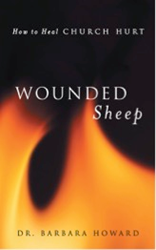 in recent trends, people are turning away from the church and are more vocal about turning away from the church
Jackson, Miss. (PRWEB) January 29, 2018
Within the pages of Dr. Barbara L. Howard's book Wounded Sheep: How To Heal Church Hurt the author confronts an unfortunately common situation that is all at once awkward, painful, and deeply scarring. When it is the church family injecting deception and mistreatment into your life, it can be difficult to know where to turn. Howard looks at this issue through a biblical lens and offers insight along with Bible stories, poetry, and real experiences to help readers develop an understanding and heal their wounds.
"It seems that in recent trends, people are turning away from the church and are more vocal about turning away from the church. This turning away from the church is largely because of church hurt," states the author. "Wounded Sheep: How to Heal Church Hurt is a short book that is filled with power for a right-now healing. It allows readers to assert their own individual experiences with hurt and offers a prescription for the pain"
About the Author
Dr. Barbara L. Howard is a licensed minister with theological training from Central Baptist Theological Seminary. This book is the premier in her series about church dynamics and a fore-runner to her work, Wounded Sheep: How to Calm a Storm. For more information about the author, visit FinerThingzUpscale.wix.com/wounded-sheep or contact Dr.BarbaraLHoward(at)gmail(dot)com.