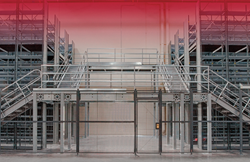 It's about creating maximum value for all of our customers, large and small.
LOS ANGELES (PRWEB) January 24, 2018
Western Pacific Storage Solutions (wpss.com) is well-known for manufacturing industrial steel shelving and work platforms (mezzanines). But how has the company continued to maintain superior quality? How has it distinguished itself from the competition? How has it added value while serving its growing network of customers, all having highly complex business environments – and all of them needing to meet tight deadlines?
The answer announced recently, is in part, by optimizing its flow of products and services across all value streams by implementing the Lean manufacturing principles.
In general, Lean Manufacturing is an empowered way of thinking, including such commandments as "Abandon fixed ideas". It encourages the use of a range of tools and techniques that help companies eliminate waste, find cost-effective solutions, improve processes, and perhaps most importantly, strengthen the customer supplier connection.
Tom Rogers, President and CEO says, "At WPSS, we have to think creatively, and act strategically, so utilizing Lean manufacturing principles is a way of life for us; it's not some 'continuous improvement' fad du jour. Lean principles are woven into the fabric of what we do every day. It's an organic process that inspires innovation and creates value for our customers."
All this creative strategizing is working for WPSS. Dozens of high-profile customers attest to the superiority of their product lines, the responsiveness of their customer service teams, the attention to detail, and the value-added extras that comprise the WPSS way of doing business.
Every day WPSS employees encounter these Ten Commandments of Lean wherever they go within the plants and offices; they are talked about on an ongoing basis:

Abandon fixed ideas
Think of ways to make it possible
No excuses needed
Go for the simple solution, not the perfect
Correct mistakes right away
Use your wits, not your wallet
Problems are opportunities
Repeat "Why" five times
Seek ideas from many people
There is no end to improvement
Tom continues, "It's about creating maximum value for all of our customers, large and small."
About WPSS: For over twenty years, Western Pacific Storage Solutions (http://www.wpss.com) has established itself as a premier supplier and manufacturer of industrial shelving and work platforms (mezzanines) to some of the world's largest corporations. The company's operations in California, Texas, and Kentucky include two state-of the-art manufacturing plants, and three strategically located distribution centers.