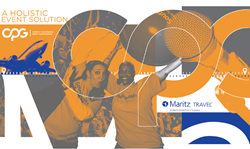 "As we continue to pave new paths in the event engagement industry, CPG Agency and Maritz Travel will approach our clients' projects as one team, with one hand to hold, producing disruptive, engaging event strategies that are brought to life before the event begins and live long after it concludes."
ST. LOUIS (PRWEB) January 26, 2018
CPG Agency announced its partnership with Maritz Global Events as a holistic event solution provider. The alliance will focus on serving corporate clients with full-service event capabilities.
 
Together, CPG Agency and Maritz Travel will offer an enhanced, holistic event experience, focused on designing and delivering better guest experiences throughout the entire lifecycle of an event. The partnership is grounded in the experiential event and internal engagement practices developed by CPG Agency and the people-centered, science-based methodology developed by Maritz Global Events.
"This is a big win for everyone involved," said Keith Alper, CEO and Co-Founder, CPG Agency. "As we continue to pave new paths in the event engagement industry, CPG Agency and Maritz Travel will approach our clients' projects as one team, with one hand to hold, producing disruptive, engaging event strategies that are brought to life before the event begins and live long after it concludes."
As a strategic design partner, CPG Agency will offer Maritz Travel clients enhanced design services for their events including creative communications, content development, production and branding. In addition, CPG Agency clients will be able to tap into Maritz Travel's extensive event management and planning expertise.
"Partnering with CPG Agency allows us to deliver on the purpose of Maritz Global Events' Design Studio – taking us from just exploring better experiences to activating them for our clients and their guests," said Greg Bogue, Chief Experience Architect, Maritz Global Events. "CPG Agency can take a nugget of an idea and help us seamlessly transform it into a tangible, amazing, experience."
  
In the changing event landscape, clients continue to seek more effective ways to provide engaging experiences throughout the entire guest journey. Driven by design thinking, both companies are committed to designing and delivering better event experiences to clients and their guests.
"We hear a common thread from client to client," said Ellie Dupuis, VP of Business Solutions, CPG Agency. "When strategizing for their big conference or next event, the right hand doesn't always know what the left hand is doing, or spending. To solve that, you need more than two companies just combining solutions; you have to design and execute together."
 
This commitment makes the Maritz Travel and CPG Agency alliance truly unique. Now, corporate brands strategizing for their next event can kick it off with everyone at one table, solving for everything from location sourcing to expo design, from registration to executive content development, from set design to app development, from travel to food and beverage, from pre-event to post-event communication.
  
"When looking for partners to help us enhance our client and guest experiences, CPG Agency was a natural fit," Bogue said. "This isn't about suppliers or vendors, it's about working in concert to provide more cohesive, holistic and strategic event experiences."
 
About CPG Agency
Since 1985, CPG Agency designs disruptive, impactful experiences that connect top brands to the ideas that drive critical initiatives and grow business. Each experiential solution inspires action and creates brand advocates. Through live events, immersive experiences and ongoing engagement strategies, CPG inspires brands to act by creating "Belief through Experience." To learn more, please visit http://www.cpgagency.com.
 
About Maritz Global Events
Maritz Global Events brings together the industry-leading power of Maritz Travel and Experient to transform people and business through the event experience. For decades, our family of brands has been designing and delivering exceptional global experiences to our clients and their guests. As an industry leader, Maritz Global Events leverages its strong global partnerships, cutting-edge technology and negotiating power to provide exceptional event experiences to each guest, every time, everywhere. For more information, visit our website or follow us on Twitter @MaritzGlobalEvt.