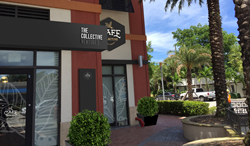 To build an amazing startup, you must have 5 things. A solution to a problem many people have, knowledge, experience, courage, and money. All 5 make the perfect come to build a great startup. If a few of those variables are missing, we can step in.
FT. LAUDERDALE, Fla. (PRWEB) January 25, 2018
Florida just got a huge boost to the Start Up community now that Collective Ventures has joined the local ecosystem right in Downtown Ft. Lauderdale near Las Olas.
Brian Jacob and Dhiraj Thareja, Founders of the concept often get asked, "What is Collective Ventures?" Brian shares, "We're an Innovation center w/ 20 unique Creative & Technology companies, a Startup Incubator & Investment Firm, and a Community Co-working Cafe nestled in a 7000 sq ft space on Broward and Federal - specifically in the Waverly Condominium building." He goes on to say, "The desire is to help build your business!" By combining those elements under one roof, they believe they've created a great space and energy to collaborate and make amazing things happen! "Cafes & Breweries are the new garages where startups are founded" Brian continued." "Some of the best businesses have started out as sketches on a cafe napkin."
The idea was born out of frustration at the inefficient and haphazard way he and other entrepreneurs in his circle went about getting outsourced work done. It occurred to him that having a curated roster of quality talent in the different functional areas of a business would solve a real problem many entrepreneurs were having. When Brian mentioned the idea to his partner, Raj was intrigued. "We already had grown a strong list of vendors and built meaningful relationships with them over the last few years." Raj continued, "Why not put them all together and work like a full service agency?" In addition, they had started investing in a few of the companies that came to their Manhattan or Ft. Lauderdale offices of their Creative Digital Agency, DB Collective. So it was a natural, organic progression of things they were already doing. In addition, DB Collective had been providing enterprise level software, mobile application development, and creative services for companies like The United Nations, AT&T, The NHL, Forbes, Memorial Hospital, and many more small to large businesses. "Our partners & vendors could assist with their specific expertise, while growing their own portfolio and experience with high level clientele,"
The founders started the business planning, and the journey begun at the end of 2015. They spent time scouting locations, and in June of 2016, they had finalized their search and moved into their new home. They spent about 4 months building the space out, and were ready to go January of 2017. Now that they are here, the intent is to help the community build business, and invest in more amazing new startups that plan to impact many people. They are actively seeking companies to vet, and invest in. Their startup team has been growing and researching many pitches a week.
So how does one get involved in using Collective Ventures for a business service or to get an investment? Learning what components are there is the first part of the journey. 
The Creative & Tech Innovation Center is the home of 20 Unique companies specifically chosen to help the average business. They are: The Creative Agency, Web & Mobile Development, Startup Advisor, Startup Incubator (5 Million to invest in each location), Accountant, Lawyer, SEO Firm, Adwords/PPC Firm, PR Firm, Photographer, Videographer/Media Agency, Content Writer, Lead Generation Firm, Email Marketer, Social Media Firm, and Staffing Agency. 
They also have 70 seats inside and 40 seats outside that will act like a free co-working space, with an added Cafe serving the best coffee from their roasting partner Switchbox Coffee. With High speed internet, printers, and 7 amazing conference rooms for rent, clients will feel like they get the best service. If there has been a career change, and a need to have a location to built that new business, this is a great resource. 
Finally, there is a Startup Incubator. Brian tells many of the entrepreneurs he meets that each startup must have 5 things. "A solution to a problem, knowledge, experience, courage, and financing. All 5 make the perfect grouping to execute the dream. But if a few of those variables are missing, there is help from the Startup Collective. Collective Ventures can be a talented, connected, and financially secure Co-Founder." They have since invested in 13 companies, and continue to get 20-30 pitches each week. 
With plans to create Collective Ventures locations in Hollywood, Del Ray, West Palm Beach, Tampa, and Orlando before leaving to other states, they believe they will have amazing impact in the nurturing and growth of the startup culture in Florida.
For more info, email info@collectiveventures.org.