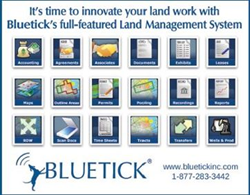 GREENSBORO, N.C. (PRWEB) January 24, 2018
Bluetick's Land Management System software is an intuitive solution. It's a real-time, tract-based integrated land administration system that manages the entire lifecycle of permit and lease acquisition projects all in one web-based package. In addition, the integrated Esri ArcGIS® mapping functionality ensures that the user can easily provide detailed maps to stakeholders.
"We're streamlining the processes for managing land data," said Dean Byrd, lead software engineer for the Bluetick LMS. "Our multipurpose tools to import and mass update title, permit, lease, well and working interest records allow users the ability to ready data to be examined rapidly and modify information on a large scale promptly. Our reporting enhancements deliver abundant search filters and customization options providing users the power to export desired data proficiently. These tools, coupled with our continuing effort to add capabilities such as our newest feature that manages title instruments and allows users to collect instruments into an abstract, the Bluetick Land Management System provides a comprehensive solution to the Oil & Gas industry. We specialize in making arduous procedures efficient."
Small improvements in the land productivity will have a meaningful financial impact, as additional throughput translates directly into more revenue.
Bluetick's LMS Key Benefits:

Reduce project time and cost
Manage all land personnel, from contractors to in-house lease analysts
Automate land functions and reduce the need for paper files
Streamline and simplify the land and lease management process
Create reports and update maps with real-time information
Eliminate IT infrastructure investment with Bluetick's hosted solution
Improve data accuracy and eliminate redundant data entry
Access data 24/7
Bluetick provides innovative solutions to the upstream and midstream oil and gas marketplace. Its vision is to provide practical solutions that deliver a measurable value and return on investment. Its flagship products, the Remote Monitoring and Control (RMC) system and the Land Management System (LMS), demonstrate how effectively Bluetick has implemented this vision. For more information please visit its website or email Ken Sigmon at ksigmon(at)bluetickinc.com.