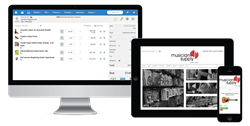 "Managing a rent-to-own program from within Rain has been one of the top requests from music retailers...We are excited to announce the general release of our rent-to-own module...will save [retailers] hours of time each month and help dramatically grow monthly revenues."
SPRINGVILLE, Utah (PRWEB) January 26, 2018
Rain Retail Software, a cloud-based point of sale and integrated website solution provider, has announced the general release of their rent-to-own module within the Rain Retail system. This module gives retailers the ability to run a standard rent-to-own program, create and store contracts, and set up automatic periodic payments. If needed, retailers can also take deposits on items and give customers in-house financing.
Regarding the new module, Rain Retail founder and president, Sean Roylance, stated, "Managing a rent-to-own program from within Rain has been one of the top requests from music retailers. Our development team has been hard at work creating this functionality, and has been enhancing this module with the help of our beta users for a number of months now. We are excited to announce the general release of our rent-to-own module because it will give retailers long-awaited capabilities to simplify their rent-to-own program. This module will save them hours of time each month and help dramatically grow monthly revenues."
Rain also announced they would be demoing another highly requested feature currently in development— private lessons— at The NAMM Show, January 2018. The Rain system already includes class management. Retailers will soon be able to manage private lessons as well. Customers will be able to sign up easily in-store or online. They will be able to choose their instructor and lesson time. To ensure retailers receive payment, the module also includes automated reoccurring payment for ongoing lessons.
"Rain users, like The Chapman's Acoustic Shoppe, a NAMM Top 100 Retailer, have already been reporting an increase of 35% in annual sales using the Rain Retail system. Being able to manage private lessons as well from within our system will round out our product offering, truly offering music retailers an amazing all-in-one system. It will empower them to compete with large retailers like Guitar Center and online giant Amazon like never before," said Roylance. Sean also noted that with this addition to the toolset, the Rain Retail system now includes point of sale, inventory management, rental management, (now including rent-to-own,) Reverb.com integration, integrated e-commerce, automated email & text marketing, repairs, classes, and soon, private lessons.
Rain Retail Software is a cloud-based, point of sale and integrated website system with features for specialty retailers, and general retail. For more information or a demo, visit Rain Retail at NAMM Booth #3917 or contact Rain (http://www.rainpos.com/music) at 801-893-3680, sales(at)rainpos(dot)com.