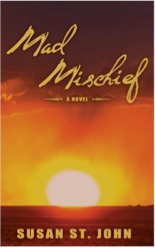 experienced a private African safari after being prescribed a dangerous combination of drugs, which induced a psychotic reaction
MONTECITO, Calif. (PRWEB) January 29, 2018
Within the pages of Susan St. John's new book, Mad Mischief, readers will slip into a world where primal instincts reign in the heat and dust of sub-Saharan Africa wilderness—but what if you cannot trust your own mind? Based on the haunting experiences of author Susan St. John, Mad Mischief poses that very question, and the answer is chilling. Highlighting the razor-sharp edge between reality and fantasy, authenticity and perception, Mad Mischief follows a woman, Sarah, as she tries to untangle herself from a web of passion, obsession, destruction, and, ultimately, redemption.
In an attempt at healing through storytelling, the author uses her own story of surviving a psychotic break while on an African safari as inspiration for Sarah's harrowing adventure within her own mind.
"I actually experienced a private African safari after being prescribed a dangerous combination of drugs, which induced a psychotic reaction," states the author. "Upon returning to America, I was diagnosed as bi-polar and had apparently been on a manic high while on the safari. My novel is a creative storytelling regarding that journey."
About the Author
Susan St. John spent nearly twenty years as Vice President of Sales for a major division of a Fortune 500 company and then went on to create two successful entrepreneurial ventures, one delivering unique financial services to high level executives and the other, providing innovative networking and marketing opportunities for a broad cross-section of businesses. She now resides in Montecito, California. Mad Mischief is her debut novel. For more information, visit MadMischief.com.