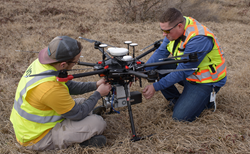 "This is the first use of drone LiDAR by a city or local governmental agency for a drainage survey in Texas and possibly in the whole country."
HOUSTON (PRWEB) January 25, 2018
Precision Aerial Compliance Solutions, LLC (Precision Aerial) in partnership with The Woodlands Joint Powers Agency (WJPA) is providing drone LiDAR surveying for portions of The Woodlands drainage system in response to Hurricane Harvey. "The WJPA, on behalf of the Municipal Utility Districts it represents, is taking proactive steps now to help improve drainage during future rainstorms," said James M. Stinson, PE, general manager for the WJPA.
The WJPA is the central management agency for the ten Municipal Utility Districts (MUDs) that serve The Woodlands in Montgomery County. To evaluate current conditions along portions of Panther Creek and Spring Creek, Precision Aerial will utilize high-end, drone LiDAR to provide the laser assessment for the WJPA. Deploying one of the few drones in the country capable of this type of survey, this will be the first look of its kind at the drainage systems to evaluate current conditions and consider improvements for future preventive measures.
"This is the first use of drone LiDAR by a city or local governmental agency for a drainage survey in Texas and possibly in the whole country," said Scott McGowan, President, Precision Aerial. "We are uniquely qualified to provide this type of service not only because of our experience, but we operate one of the few drones in the country capable of actually performing this type of scanning. Our cutting-edge LiDAR systems are setting a new industry standard for accuracy and efficiency, and it is something very special."
Precision Aerial, a Conroe-based aerial data collection and inspection service company, is a member of the LJA Engineering family.
#
Precision Aerial has collaborated on a number of "industry firsts" providing successful proof of concept flights, as well as successful contracts for industrial, commercial, and government entities. This experience has given Precision Aerial a unique perspective on the advances and uses of UAS technology in a multitude of industries. From oil and gas assets, forestry and agriculture to construction and bridges, Precision Aerial has the expertise and technology to capture the quality data using the latest UAS technology and instrumentation. Precision Aerial hires only FAA certified pilots to fly UAVs. Precision Aerial operates under FAA Rule 107, but considers that to be a baseline and still adheres to the more stringent rules and regulations of the Section 333 Exemption and those followed by the credentialed members of the National UAS Credentialing Program (NUASCP), a rigorous testing and vetting process sponsored by Texas A&M University, TEEX, Lone Star Center for Excellence, the FAA, and NASA.
Founded in 1972, LJA Engineering is an employee-owned, full-service consulting engineering firm serving both public and private sectors. With 26 offices throughout Texas and Florida, the staff of LJA includes over 700 experienced civil, transportation, structural, midstream, rail, and coastal engineers, plus hydrologists, environmental specialists, land planners, landscape architects, construction managers, designers, GIS specialists, technicians, and surveyors.