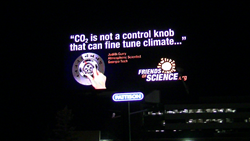 Stirling cited the billions of dollars in coal phase-out costs and said that the back-end integration and infrastructure of wind with the required natural gas power plant back-up costs would outweigh the value, even if the wind farms were free
CALGARY, Alta. (PRWEB) January 25, 2018
As reported by the CBC on Jan. 19, 2018, the Alberta government was 'cool' to Friends of Science Society's presentation at the Agricultural Services Board conference in Grande Prairie on Jan. 17, 2018, wherein Communications Manager, Michelle Stirling, walked some 400 delegates through a presentation on how carbon taxes are set and the implications and costs of coal phase-out and climate change policies. The CBC report indicates that the Alberta government finds it concerning that a view contrary to their climate change dogma was presented to a provincially funded organization.
According to Stirling, open, civil, democratic debate is crucial as the province of Alberta is in for billions of dollars in long-term debt due to a 'rush-to-renewables' that she says also blunts the former competitive economic advantage of the province, once said to drive a third of Canada's economy.
Far from the 'record-setting success' the Alberta government claimed about its renewables auction coming in at a price of 3.7 cents/kWh in a Dec. 13, 2017 press release, Stirling told the audience in fact coal-fired power was 2.2 cents/kWh and that renewables were expensive and unreliable. Stirling cited the billions of dollars in coal phase-out costs and said that the back-end integration and infrastructure of wind with the required natural gas power plant back-up costs would outweigh the value, even if the wind farms were free.
Further, The Independent Power Producers Society of Alberta reported in a recent statement that the Alberta Balancing Pool is losing money every day, due to utility companies having dumped the coal Power Purchase Agreements (PPAs) when the carbon tax and Alberta Climate Plan were implemented. These losses are propped up by a $2.25 billion loan from the Alberta government, the interest alone being $400 million.
As reported by the Financial Post, July 26, 2016, the Alberta government claims there was a last minute 'secret Enron clause' that allowed companies to release PPAs if there was a change of law. The Alberta government is suing 'itself' and other power companies over this, but Stirling says the World Bank had instituted 'change of law' clause recommendations for such PPAs in the late 1990's. LINK: ppp.worldbank.org/public-private-partnership/sector/energy/energy-power-agreements/power-purchase-agreements
Working with materials developed with economist Dr. Ross McKitrick, Stirling walked the audience through the process of how carbon taxes are set based on economic computer simulations (known as 'models') which are tied to climate models which are projecting temperatures that are far higher than those observed.
Stirling said that Alberta's carbon tax and climate plan would only reduce warming by 2030 by some 0.00007°C, an undetectable amount as reported in their 2016 report: "Alberta's Climate Plan: A Burden with No Benefit."
According to Bjorn Lomborg, if all Paris Agreement signatories met all their target for 70 years, there would only be a 0.17°C (seventeen one hundredths) reduction in global warming – but the costs would be in the trillions.
Stirling also pointed out that the European carbon price was about a third of the carbon tax in Alberta.
Friends of Science Society says that the sun is the main direct and indirect driver of climate change.
References:
Guide to Social Costs of Carbon: friendsofscience.org/assets/documents/McKitrick_Climate_Change_SCC_Feb_14_2015.pdf
Climate Change Video series:
youtu.be/g30JfQIK6GA?list=PLZcRTdbkGEnHfU8-dkQfGnO67K6p1m8rh
About
Friends of Science Society is an independent group of earth, atmospheric and solar scientists, engineers, and citizens, celebrating its 15th year of offering climate science insights. After a thorough review of a broad spectrum of literature on climate change, Friends of Science Society has concluded that the sun is the main driver of climate change, not carbon dioxide (CO2).
Friends of Science Society
P.O. Box 23167, Mission P.O.
Calgary, Alberta
Canada T2S 3B1
Toll-free Telephone: 1-888-789-9597
Web: friendsofscience.org
E-mail: contact(at)friendsofscience( dot)org
Web: climatechange101.ca