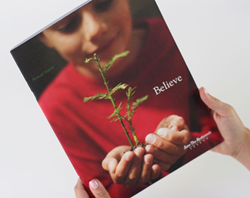 The design of our brochure for our Redwoods and Climate Change Initiative is fresh and compelling, showcasing our project effectively for our potential donors. - Save the Redwoods League
SAN FRANCISCO (PRWEB) January 30, 2018
First impressions. Lasting solutions.
Our goal? To create print design work that your customers never want to put down. Print design isn't only about style—it's about visual impact. It's about provoking thought, pleasing the eye, and designing a message that leaves an impression. An impression that's clear, meaningful, and, most of all, memorable. From stationery systems and direct mailers to annual reports and corporate brochures, Project6 Design develops clear, strategic communication pieces to reflect your brand and represent your vision. Whether you're extending your existing identity or starting afresh, we help capture your message in print.
Print collateral design areas of expertise include:
Annual Report Design
Corporate Brochures
Marketing Collateral
Conference Materials
Trade Show Booth Design
Stationery Systems
Reveal Yourself
Whether you are an established firm or a fledgling venture, it's essential for your brand personality to shine. Brilliant branding generates excitement in your products and services, attracts talent, and inspires loyalty among your customers. As an award-winning graphic design and web development firm, Project6 Design helps you find and celebrate the spirit of your organization. Whether daring or demure, competitive or collaborative, we will capture the style you seek in a logo, identity system, custom graphics, infographics and more.
We are a San Francisco Bay Area design firm that helps businesses build strong brands. Whether we are redefining an identity for a new company or broadening the scope of an existing one, we strive to create simple, efficient and long-term solutions.
Brand Identity Expertise include:
Logo Development
Brand Family Design
Identity System Design
Custom Graphics
Infographics
About Project6 Design
Project6 Design is an award-winning graphic design firm working with university, foundation, high-tech, and retail clients. Services include brand identity, marketing collateral, UI/UX design, website design, and website development. Working with national and international clients such as CrossFit, eBay, Gap, CA Technologies, Old Navy, and The Siebel Foundation, they are known as one of the best design firms in the San Francisco Bay Area.
Contacts:
Project6 Design, Inc.
Esten Sesto
President
(510) 540-8005 ext. 100
info (at) project6.com
https://www.project6.com
follow @P6Design