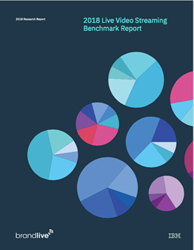 The research shows that live video is becoming a top priority for executives from varying departments with brands and retail, and that more than 60 percent of those companies are using live beyond social media.
PORTLAND, Ore. (PRWEB) January 25, 2018
Brandlive today released the results of its live video survey in partnership with IBM Cloud Video on the state of live video streaming in today's marketplace and what 2018 will look like.
The study uncovered a number of trends for 2018, including the fact that companies that are already leveraging live streaming video are planning to increase their use of live streaming video in the coming year. The study also shed light on how executives from consumer product brands and retailers use and value live streaming video for their business. Across all uses of live video, the top three were for the purposes of training, media/influencer briefings, and broadcasting in-person events.
Video is projected to make up as much as 82 percent of all Internet traffic by 2020, a growing share of which will be live video content. From high-profile live events – like the launch of the Tesla Model 3 and the GoPro Hero 6 – to internal events such as sales team trainings and employee town halls, 2017 made it clear that more brands and retailers are taking advantage of the benefits of live streaming.
"The research shows that live video is becoming a top priority for executives from varying departments with brands and retail, and that more than 60 percent of those companies are using live beyond social media, finding significant value beyond simple social audience engagement," said Fritz Brumder, CEO and Founder for Brandlive. "Training, ecommerce and town hall events are just the beginning of what these companies are doing with live video. This is the year that executives are seeing the true ROI for live video with a dramatic increase in engagement and the ability to quickly create video assets anywhere and immediately archive for future use."
"As part of our continuing partnership with Brandlive, we're seeing first-hand the incredible impact of live video," added Alden Fertig, Senior Offering Manager at IBM Cloud Video. "The ability to engage consumers anytime and anywhere with authentic real-time video has proven to be a critical and cost effective component of internal and external communications strategies for enterprises of all sizes, and we look forward to continuing to support the growing number of companies leveraging this powerful medium in 2018."
Key Findings and Takeaways:
Live video is key in customer and employee engagement: It has become an important method of launching products online to consumers across social networks and websites, and is highly effective in keeping employees connected across regional locations and varied time zones. Overall, respondents found the most benefit in the engagement metrics: from bringing a human element to digital marketing (59.48 percent), to engaging users over social media (56.90 percent), to simply benefiting from increased viewing time through on-demand video (43.10 percent).
Training leads ROI for live video: Companies who have adopted live video to train salespeople and associates are among the top-rated use cases for live video ROI. In the past 12 months, 55.56 percent of respondents used live video to train retail associates, 50 percent used it to train sales representatives, and 47.17 percent used it to train customer service representatives.
Live video for eCommerce sales is on the rise: Companies are looking to merge the buy-now experience with live video, which will offer higher levels of engagement than pre-recorded video with 60 percent of respondents planning to pilot live eCommerce sales for the first time next year.
Live video provides authentic/ corporate culture experiences: Executive teams can go a long way in achieving a connected corporate culture via live video. With its authenticity and ability to elicit emotion, live video has the potential of boosting employee loyalty.
About the Data
Data gathered from this survey targeted brand and retail executives and their current use of live video streaming. Over 200 employees from different companies were represented in the data. Of those respondents, 30.70 percent worked for a company in retail, with 16.34 percent working for agencies. Well over 58.42 percent of respondents worked for a company with fewer than 100 employees, with 16.83 percent working for companies with 5,000+ employees. Likewise, there was a similar connection between overall revenue from these represented companies, with 49.01 percent making under $5 million and 15.84 percent making over $1 billion in revenue.
The full report can be downloaded here.
Join the live video discussion about the Benchmark report taking place on January 31st. To register for the webinar, click here.
About Brandlive, Inc.
Brandlive provides an omni-channel live video platform for brands and retailers who use it for training, marketing and eCommerce events. The end-to-end live video platform enables brands to connect their best product experts and influencers directly to global digital audiences, who can then interact with those experts. Customers such as GoPro,The North Face, REI, eBay, Walmart and Cabela's use Brandlive to launch products, increase eCommerce sales, create innovative live marketing programs and conduct more cost-effective internal events and training. Brandlive is headquartered in Portland, OR and found at http://www.yourbrandlive.com