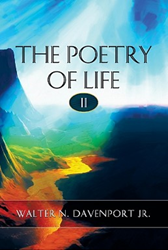 "In my poetry, I, the writer, search for answers to life's questions." - Author Walter N. Davenport Jr.
(PRWEB) January 31, 2018
"The Poetry of Life II" follows the author's first book of poetry, "The Poetry of Life," which was published in 2001. A lot has happened in Walter N. Davenport Jr.'s life since then.
"In my poetry, I, the writer, search for answers to life's questions," he says.
Poetry is defined as a vast subject, as old as history itself. It can evoke emotional responses based on the interplay of distinctive words, sounds, style, and rhythm. The poet's expression of feelings and ideas are given intensity by this interplay. As in everything else, a poem's beauty is in the eye of the beholder.
This book's poems "Hope," "Faith," and "Paradise Lost" are reminders that no matter how bad things are, or what humanity has done wrong, there's always hope for the "Salvation of Humankind."
"The Poetry of Life II" is sometimes emotional and playful. Sometimes it's about everyday occurrences, such as love, nature, hunger, poverty, war, and death. And sometimes, poetry can answer the questions that change the world.
"There are many love poems in this second powerful volume of poetry by Walter N. Davenport Jr., and there are plenty of other themes. He touches on Mother Earth as well as the serious problems that face mankind. We are proud to be the publisher," said Robert Fletcher, CEO of Strategic Book Publishing and Rights Agency.
About the Author: Born in New Orleans, Walter N. Davenport Jr., earned an MA from Syracuse University, a BA from the University of Maryland, and an AA degree from Prince Georges Community College in Maryland. He is a U.S. Army veteran and served as a police officer with the Metropolitan Police Department in Washington, D.C. He entered the U.S. Department of State's Foreign Diplomatic Service in 1976, serving until his retirement in 1997. The author has lived in many countries and has traveled extensively. Married to a Dutch National, he resides in The Netherlands.
THE POETRY OF LIFE II (e-Book ISBN: 978-1-62857-283-4, Kindle ISBN: 978-1-62516-932-7) is available at Amazon.com, BarnesandNoble.com, and in multi-formats for other e-Readers through numerous vendors online.
The soft cover version (ISBN: 978-1-62516-397-4, $14.50) can also be ordered through the publisher's website: http://sbpra.com/WalterNDavenportJr or at Amazon.com or BarnesandNoble.com.
WHOLESALERS: This book is distributed by Ingram Books and other wholesale distributors. Contact your representative with the ISBN for purchase. Wholesale purchase for retailers, universities, libraries, and other organizations is also available through the publisher; please email bookorder(at)sbpra(dot)net.