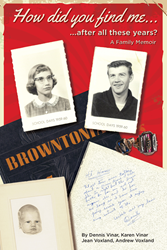 Everyone searches for happiness
Northfield, MN (PRWEB) January 30, 2018
In a remarkable account of perseverance, faith, and overwhelming love, How Did You Find Me…After All These Years?, takes the reader on a captivating journey of the heart. It begins in a rural Minnesota town in the late 1950s with a thirteen-year-old girl and a fifteen-year-old boy. They spent their days at school together, and he walked her home every day, carrying her clarinet. They spent their nights at the dances in the school cafeteria after home football and basketball games, dancing the jitterbug and waiting for the slow songs. They fell in love, but their happiness was short lived until fifty-five years later, when fate would show them the true strength of their affection.
"Everyone searches for happiness, but not all find true love and comfort," states Dennis Vinar. "Ours is a heartwarming story, [and everyone likes] to share in the happiness of others."
About the Authors
Dennis Vinar is an inventor and manufacturer's representative for over forty years, and his wife, Karen, is an interior designer. They live in Northfield, Minnesota. Jean Voxland, who is in IT, and her husband Andrew, in management, live in Kenyon, Minnesota. They wrote their story together as a family memoir to share the incredible journey.
For more information about the book and its authors, contact Denny(at)vinars(dot)com or visit HowDidYouFindMe.com.