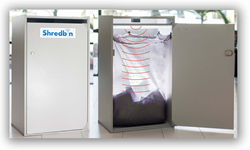 best in class security and industry low cost
MIAMI (PRWEB) January 25, 2018
Shredbin™, a document destruction and recycling business operating in Miami, Florida is using an artificial intelligence system coupled with a patent pending state-of-the-art sensor technology to fully automate their segment of the waste management industry. At the heart of their system is Alice™, a unique sensory application which allows Shredbin™ to remotely monitor empty space in their customer's secure document disposal bins and provide service only when needed. With this innovation, Shredbin™ can offer just-in-time service, instead of collection based agreed on dates which are estimated. This reduces costs and service when bins are only partially filled. The company slogan puts it simply, "We'll Be There When You Need Us".
The concept and technology was developed and engineered by Joshua Repensek, CEO of Shredbin™. Repensek said "In developing this device it was our goal to focus on providing the customer with the best experience possible while maintaining best in class security and industry low cost to the client. As the concept grew it was understood that we had created more than just another system and thus Alice™ was born. "
Alice™ has just celebrated her first birthday, successfully monitoring shred bin capacities for one full year. Analysis have shown a savings of 25-50% over all competitors. With these kind of numbers this is definitely a technology to keep an eye on.
To learn more about Shredbin™ and Alice™ Technology, please visit http://www.shredbin.com or call 1-800-633-3650 for more information.