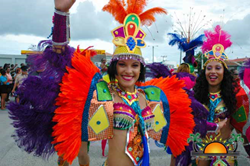 Tourism breaks down walls and builds bridges between visitors and hosts...
SAN IGNACIO, Belize (PRWEB) January 30, 2018
Trends in travel come and go, but cultural travel continues to rise globally. And this is especially true in tiny Belize, where an increasing number of travellers seek more fulfilling and meaningful experiences that also benefit local communities, according to The Lodge at Chaa Creek's marketing administrator.
Roberto Harrison said recent industry reports agree with his own experience at one of Belize's most popular eco-resorts, and this suits Belize and Chaa Creek just fine, he added.
"When Mick and Lucy Fleming opened their small family farm to guests in 1981, many of the early visitors were researchers, academics and archaeologists studying the local Maya culture and exploring the many ancient temples, ceremonial caves and metropolises in the area. Chaa Creek itself was part of a large ancient Maya agricultural and trading centre, so there was plenty of interest here.
"As Belize and Chaa Creek became more popular as tourist destinations, the mix of visitors expanded, with more families, couples and individual coming to spend their vacations in a beautiful rainforest setting with a restaurant and lounge, infinity pool, spa, and activities such as canoeing, horseback riding, nature walks and the like. Culture may no longer have been the primary reason for many people to come, but after visiting our onsite Belize Natural History Centre, and ancient Maya sites such as the beautiful pyramid at Xunantunich, their curiosity would grow.
"In recent years we've seen a renewed interest in local cultures, with our guides busier than ever conducting excursions to ancient Maya sites, cities and ceremonial centres like Caracol, Xunantunich, Cahal Pech and Tikal in nearby Guatemala. And with over 70 ancient Maya archaeological sites and a temple within Chaa Creek's 400-acre private nature reserve, a lot of guests are introduced to the wonders of the ancient Maya civilisation right here," Mr Harrison said.
In multicultural Belize, interest is not confined solely to the Maya, he pointed out.
"Our guests hear English, Spanish, Maya, Garifuna and Creole spoken by our staff, as well as German from local Mennonite tradespeople, and they become curious and then fascinated by the mix of cultures here," he explained.
To help satisfy that interest, Chaa Creek offers various cultural tours and excursions; from day trips to local villages to a weeklong "Cultural Grand Tour" that covers Belize from Maya and Mestizo villages, Mennonite pastoral communities, Creole culture and an immersive yet luxurious stay at the Garifuna seaside village of Hopkins on Belize's Caribbean coast.
The Travel Industry of America confirms that cultural tourism is on the rise, reporting that thirty percent of adults who travel say that specific arts or cultural or heritage events influenced their choice of destination on their last trip, a figure reflected in a Solimar International report, which also found that "many travellers extend their stay in a destination because of cultural activities."
And with the United Nations World Tourism Organisation forecasting that cultural tourism will increase by fifteen percent in the coming years, it's a good bet that Belize's many cultural attractions will continue to draw visitors.
Mr Harrison pointed out that, with some twelve percent of Belize's multicultural population comprised of indigenous Maya, cultural tourism in the form of village visits and homestays is injecting needed cash into small, remote communities, improving their quality of life, and helping to keep cultural traditions and skills alive.
We feel that cultural tourism is an important part of what we offer at Chaa Creek. Providing eco-luxe amenities and a wide selection of accommodations complimented by our emphasis on engaging visitors with Belize's vibrant cultures is something we're very proud of, Mr Harrison said.
He said travellers can learn more about Belize's rich cultural heritage by visiting the Chaa Creek Belize Travel Blog and website, and can contact their travel agents or Chaa Creek directly to learn more about all-inclusive cultural vacations, tours and expeditions.
"The former UN World Tourism Organisation Secretary-General, Taleb Rifai, said 'Tourism breaks down walls and builds bridges between visitors and hosts, nurturing respect and mutual understanding that is so much needed in this often-divided world,' and that's something we're gratified to be a part of," Mr Harrison said.
The Lodge at Chaa Creek is a multi-award winning eco resort set within a 400-acre private nature reserve along the banks of the Macal River in Belize. It was recognised by National Geographic with first place honours at the 2017 World Legacy Awards held in Berlin.