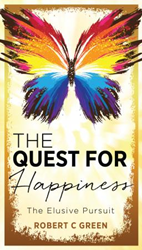 Everyone is searching for happiness
Kingman, AZ (PRWEB) January 30, 2018
Within the pages of Robert C. Green's new book, The Quest for Happiness: The Elusive Pursuit, readers will explore the concept of happiness and its intangible qualities. Happiness seems to be a simple and universal goal, we hear the words every day, but why haven't we found it? Through self-examination and simplification of our expectations, The Quest for Happiness aims to finally reveal how to find happiness in your life.
"Everyone is searching for happiness," states the author. "They search for it in all the wrong places, yet we hear it in the news and in all our daily interactions with others. Everyone wants to be happy, but they can't find it but I believe the answer is here."
About the Author
Robert C. Green has gone from a worker making dog food, to middle management, to top management in business and world traveler. He has seen and spent time with people who had very little, and also those who live in abundance, but he has never met anyone with complete happiness. For more information about the author and his work, contact RGreen7507@aol.com.