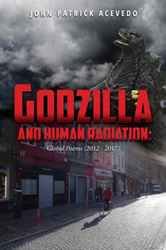 ascetic journey sometimes finds that acceptance can be controllable despite lust and love
Columbia, MD (PRWEB) January 30, 2018
Within the pages of John Patrick Acevedo's new book, Godzilla and Human Radiation: Global Poems, readers will explore themes of life, longing, and truth. Romantic and haunting, his words echo honest reflection on personal identity, love, and religious devotion. Each poem is colored with the art and culture of inspiration from Marvin Gaye to Emily Bronte to Rocky. Transposing the sacred with the secular, emotion and knowledge, Acevedo traipses across boundaries, genre, and identity.
"The ascetic journey sometimes finds that acceptance can be controllable despite lust and love and insatiable longing to share," states the author. "Gnostics used to find social change through revelation."
About the Author
John Patrick Acevedo is a publisher and poet and has been reading and writing poetry for over thirty years. John Patrick's first poem to be published was "Volcanic Gravity" in a 2003 anthology of Maryland poets. Acevedo has marketed and sold his Synergy Press books through synergy-press.org since 2015. He reads at libraries and bookstores and promotes Synergy Press in his hometown of Columbia, Maryland.
For more information about the author and his work, contact Acevedo(at)alum(dot)bu(dot)edu or visit Synergy-Press.org.