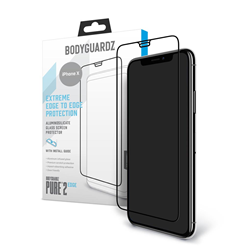 LEHI, Utah (PRWEB) January 25, 2018
BodyGuardz®, a leader in mobile device protection, introduces BodyGuardz Pure® 2 Edge for Apple iPhone X—taking aluminosilicate glass screen protection to the edge for an optimized fit and user experience.
"Our engineers have combined our technology from Pure Arc ES and Pure 2 in order to create the best screen protection possible for iPhone X," said Ryan Noel, BodyGuardz senior brand manager. "Pure 2 Edge extends coverage edge-to-edge, guarding the iPhone's subtly tapered screen."
Combined with BodyGuardz AlumiTech™, Pure 2 Edge offers proven better performance, reduced scratch visibility and improved after-scratch strength, as compared to traditional soda-lime glass.
Pure 2 Edge features include:
Complete, edge-to-edge screen protection
Aluminum-infused glass
Precise touch sensitivity
Full screen, impact-absorbing adhesive
Universal case compatibility for 360-degree protection
Installation guide—delivering reliable glass installs
BodyGuardz Pure 2 Edge for iPhone X ($44.95) represents a meaningful protection enhancement for Apple users. To learn more about Pure 2 Edge, visit BodyGuardz.
About BodyGuardz
Founded in 2002, BodyGuardz is committed to offering top-quality products and services at competitive prices. The company prides itself in providing products, service and delivery that customers notice as a step above the rest. BodyGuardz designs reliable mobile device accessories to keep up with today's active lifestyles. Learn more by visiting BodyGuardz.
About Parent Company BGZ brands™
BGZ brands' mission is "to enhance our customers' lifestyles through branded products and services of elevated value and quality." Formerly known as BodyGuardz®, BGZ brands has become the powerhouse parent company of three distinct consumer electronic accessory brands—BodyGuardz, the ultimate device protection®; Lander, gear made modern™; and MOXYO®, modern accessories for you®. For more information, visit BGZ brands.