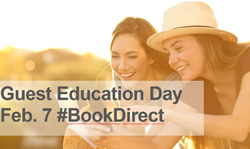 SCOTTSDALE, Ariz. (PRWEB) January 25, 2018
On February 7th, 2018, you may notice a social media trend in the travel space; #BookDirect. It's a movement to educate travelers that there are options when booking vacation homes other than the online travel agencies that charge as much as 20% in fees. An educated traveler can save that 20% by simply booking direct. Companies like VRMIntel, Tripz.com and property management companies like HolidayRental.com are all pushing for added awareness. Major booking sites for vacation rentals charge service fees and commissions that are a big reason companies and vacation rental owners have sparked the #BookDirect Guest Awareness Day. This awareness effort is an incredibly important and simple way to communicate to travelers how service fees among other changes by large sites have impacted vacation home rentals in recent years, especially regarding communication and the booking process. The #BookDirect awareness effort was announced on VRMintel.com on January 14th and is gaining wide spread support.
BUT FIRST…WHAT IS #BOOKDIRECT?
Direct booking is exactly what it sounds like: Travelers looking to stay vacation rental home, book with the property owner or manager directly. Many travelers that book vacation homes on major vacation rental sites are unaware it's not truly direct. Those sites play as a middleman, stifling direct communication and add hundreds of extra dollars to the transaction. Hence the movement of the #BookDirect awareness efforts by sites like Tripz.com and hundreds of direct owners and property managers. It's all about educating travelers of truly booking direct.
The #BookDirect awareness effort is pretty straightforward: on Wednesday, February 7th, post the hashtag "#BookDirect" on Twitter, Facebook, Instagram and LinkedIn to help drive attention online. In addition, send an email to past and prospective guests to further push the campaign directly to travelers and educate them on the perks of booking directly with the vacation home rental owner or manager.
In the announcement made by VRMintel, they provide key points of the campaign for you to send out to potential travelers and guests, including:

Many of the best vacation rentals aren't event listed on the major sites: Because of the cost of using the big sites, the best vacation homes with the highest demand cannot be found on the big websites. Along North Carolina's beaches, alone, only 30 percent of the homes for rent can be found on the big websites. By limiting your search to the aggregating websites, you might be missing out on the best vacation home for your family or group.
If you have special needs, a manager or homeowner can help: Looking for help with your family's special needs or help with pets? A manager or owner can work with you directly to help with any of your individual needs and give you these assurances before you commit to a booking.
During non-peak travel times, managers and owners have special offers available: From events and activities to special rates to onsite services, with direct communication with managers and owners, you get insider knowledge and the best offers.
HOW CAN A TRAVELER #BOOKDIRECT?
There are several ways a traveler can book direct. One is to research and find the owners and managers direct using tactics like reverse image searching property photos to find the direct source. Most have direct websites where you can reach out and book with the owner or manager directly. The other option is use sites like Tripz.com that is designed to help travelers browse thousands of vacation rentals all on one place all with the owners direct info on the listing allowing travelers to #BookDirect and save. Its sites like Tripz.com that are helping vacation rental owners and managers build their brand and create awareness among travelers that the best bookings for vacation rentals are direct ones.
DIRECT BOOKING & OPEN COMMUNICATION
Tripz.com supports #BookDirect Guest Awareness Day on February 7th, 2018 as they are passionate about saving travelers unnecessary service fees many travelers are being forced into paying. Tripz.com platform utilizes organic searches so you as a traveler can find the best vacation rental for their needs. When travelers book on Tripz, they communicate directly with the owner of the property they want to stay in, without a website interfering. Direct booking on Tripz.com saves money for the traveler and allows the vacation rental property owner to price the property based on the true market value and not one accounting for service fees or commissions. Tripz.com does not charge service fee to travelers or commission to vacation rental owners, meaning when you book directly with Tripz.com your money goes further.
Open communication is a primary value to Tripz.com because without open communication between vacation rental owners and the traveler, direct booking can't exist. That is why Tripz is excited for this new social media campaign, because we believe direct booking and open communication practices are the way business is intended to be.
Tripz.com is looking forward to the positive impact the #BookDirect campaign is going to have in the vacation rental industry. Follow them on Twitter and Instagram, and please like our Facebook page to see their Guest Awareness Day posts on February 7th.