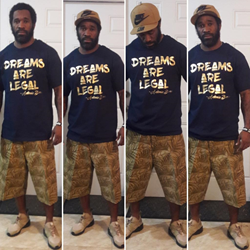 MIAMI, Florida (PRWEB) February 01, 2018
Antonio "Dayla" Brown, a former NFL player and current high school coach in South Florida, today announced the national launch of Dreams are Legal LLC, an organization dedicated to helping inner-city children through athletic skills development and mentoring. Through the website http://www.dreamsarelegal.com, visitors have the ability to purchase Dreams are Legal T-shirts and donate money that the organization will use to support athletic clinics in inner city locations year-round.
Before he was returning kicks for the Washington Redskins and Buffalo Bills, Brown was running the tough streets of Miami's Liberty City in search of a way out. One of five children from a broken home marred by frequent tragedy, Antonio saw firsthand how survival in the housing projects was a challenge. But instead of following the path that led others to trouble with the law, he used his athletic talent and dedication to academics to earn a scholarship to the University of West Virginia, where he earned a degree in four years and went on to the NFL. Today, Brown is a teacher, coach and mentor to many as well as the proud parent of two Division 1 college athletes and academic all-stars in middle and high school.
"Dreams are Legal is the motto that guided me through my journey," Brown said. "When the first Dreams are Legal T-shirts appeared on some of the athletes I train in Miami, the response from the community as a whole was overwhelming. Many people reached out to me to ask for these shirts and how they could help with my project. I am proud to be able to expand our reach through the Dreams are Legal website and know that we will continue to evolve our organization. At the end of the day, it is all about providing hope and encouragement along with examples of success in communities where the kids do not have much to raise their spirits."
All Dreams are Legal T-shirts are custom made in Miami. Current and former NFL players as well as athletes in other sports have embraced Brown's project and support what is becoming a well-known brand in inner city circles and beyond. For more information about Dreams are Legal and to provide your support with a T-shirt order or donation, visit http://www.dreamsarelegal.com. Be sure to read on the site The Washington Post profile of Brown and his journey.